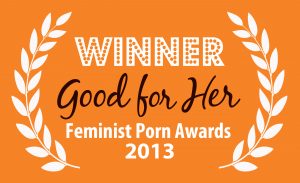 TROUBLEfilms director Courtney Trouble and TROUBLEfilms affiliated directors Tobi HIll-Meyer and James Darling have received a record-shattering number of Feminist Porn Award nominations, including IndiePornRevolution.Com for Best Website. Every film released by TROUBLEfilms was included on the nominee list, including Tobi's highly anticipated Doing It Again Vol. 1: Playful Awakenings, carried by TROUBLEfilms wholesale.
Here is a list of the complete TROUBLEfilms nods for the 2014 awards ceremony:
Feminist Porn Awards 2014 Nominations
In 2013 TROUBLEfilms took home the honors for Hottest Dyke Film (Lesbian Curves) and Best Website (FTMFucker.Com) – All together, Courtney Trouble has taken home 6 Feminist Porn Award trophies from the past six years.
—-
The Feminist Porn Awards honor pornographers whose groundbreaking work offers a fresh perspective on the sexual expression of women and everyone who finds themselves under-represented in mainstream pornography.
The 2014  nomination list is now available. Please click here to see it.
Tickets are now available for purchase on-line  for Public.Provocative.Porn. The Year's Best in Feminist Film (April 3rd) and for The Good for Her 9th Annual Feminist Porn Awards. (April 4th)
Registration
for the
Feminist Porn Conference
is now open. The conference takes place April 5-6, 2014 at the University of Toronto. Lisa Duggan, Professor of Social and Cultural Analysis at New York University, will give the opening keynote April 5th. Professor Duggan is a historian, journalist, and activist who has published widely on feminist and queer sexual politics. Director,performer, and artist Courtney Trouble will be giving the closing keynote on April 6th.