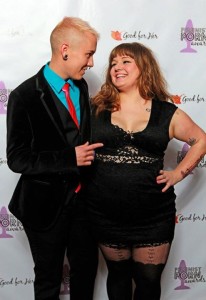 The 9th Annual Feminist Porn Awards will now officially be sponsored by independent porn producer QueerPorn.TV. Hosted in Toronto, Canada on April 4th, the Awards seek to highlight and recognize pornography that offers a fresh, diverse perspective on the sexual expression of women and others underrepresented in the mainstream. Ceremonies begin at 8:00pm, with a VIP party starting at 7.
"I'm really excited to be the sponsor for this year's Feminist Porn Awards through my site QueerPorn.TV," said Courtney Trouble, producer and performer. "These awards are close to my heart and I'm delighted to be giving back to such a fantastic, groundbreaking event."
QueerPorn.TV has a long standing relationship with the Feminist Porn Awards, starting with their win of Best Website in 2011. 2012 saw QueerPorn.TV's production Fuckstyles honored as Most Deliciously Diverse Cast, and 2013 saw BBW feature Lesbian Curves take home Hottest Dyke Film. Many of the porn stars who have won Heartthrob or Boundary Breaker Awards are also performers for QPTV, including Dylan Ryan, Jiz Lee, April Flores, James Darling and Drew Devaux.
Trouble will also be the closing keynote for the Feminist Porn Conference that happens directly after the awards. This year's nominees will be announced March 6th.
To learn more about this year's Feminist Porn Awards and the accompanying Feminist Porn Conference, visit their website.

Contact: Courtney Trouble
Website: http://queerporn.tv/wp/
Email: info@troublefilms.com