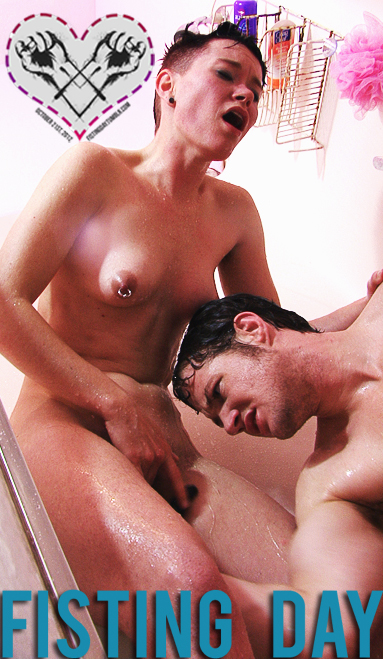 It's Fisting Day, and we here at Indie Porn Revolution think it's an important sex act to include on our site.
Why? Because fisting is censored and excluded from porn all over place! For a lot of you this may come as a big surprise. When we are out in the world, you say, "Huh? Fisting is censored? That's crazy, we see it up on the queer sites we love, all the time!" We are so happy to be one of that sites that proudly shows it, but YES, fisting is one of the many coveted queer sex acts that is included on the Cambria List of censored sexual activities depicted in porn, which also includes squirting, menstrual blood, piss play, and penetration while being tied up.
We cannot stand for this censorship of acts that happen all the time in our bedrooms, play parties and indie smut spaces. That is not the mission of Indie Porn Revolution. We are here to bring ethical, subversive smut, that shows our performers fucking how they like to fuck. That ethical piece also means that there's just really no way fisting or getting fucked while tied up, or squirting can't be included on our site because that's just how we fuck and it's what our bodies want when we want it, if we want it. We will continue promoting performers fucking in the ways that get them off, and promoting the real sex that they love, because that's what we are about
—-
Need More Fisting?
Here's some scene's from our member's area that show fisting in all of it's gloriousness.
James Darling and Papi Coxxx
---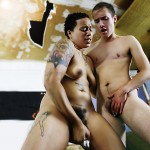 Two of queer porn's finest are filmed together at last, and holy fuck was it a match made in queer porn heaven. Papi brings out the powerful switch in James Darling, and after James blows Papi's awesome strap on cock, and gets fucked by both the cock and the stainless steel porn super-toy the Eleven – they switch, and James fists Papi into oblivion. Just as you're applauding the end of the scene, James and Papi take this scene to the next level with some serious double-Eleven hole-to-hole action and a standing ejaculation that will make you give a standing ovation!
—
Jiz Lee and Nina Hartley
---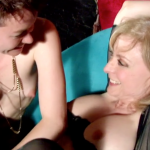 Well, those names got your attention, huh? You heard us right. Nina Hartley and Jiz Lee, together, on the same couch and fucking. Porno dreams have just cum true. And hard.
This scene was performed in front of a live audience at the Center for Sex and Culture, for its annual Masturbate-a-thon. It was Nina and Jiz's first performance together and includes incredible consent, demonstration, dirty talk, fisting, hitachi fun (aka: buzzy thing), safety and tons of laughing from the panting audience. This is up there with one of the hottest scenes we've ever had the pleasure of shooting or witnessing. Your life will actually be better from watching it and then you'll wanna watch it again, over and over. We promise. You're welcome.
Please note: Jiz Lee prefers the pronoun "they," though it wasn't used in this scene! Thank you.
—-
J Bird Fists Himself
---
Oh my god, we are literally about to burst with horniness thanks to our newest addition to the No Fauxxx family, queer porn star J Bird. What. A. Babe!!! Watch him as he blindfolds himself, and then tries to get off with a vibrator and clothespins, only to realize that he needs something extra – like his own fist, perhaps, to get him off!
—
Courtney Trouble and James Darling
---
Remember that awesome live-streaming Fisting Day webcam we offered to all you?? Educational, Smutty, and oh, James and Courtney!? Well, maybe you do and you didn't get in on the awesome private cam action where Courtney and James went wild with more hot fisting and fucking?
Nofauxxx members you are in for such a treat whether you've seen this already or not. We have 40 min of smoking hot footage, reeling with educational smut, personal details about how Courtney and James feel about getting fisted and fisting others, and so fucking much more. They responded to your questions via chat (moderated by Ella Quincy) and left the moderators, camera operator and webcam viewers utterly speechless. Welcome to the members only club, friends!
—
What Is Fisting Day?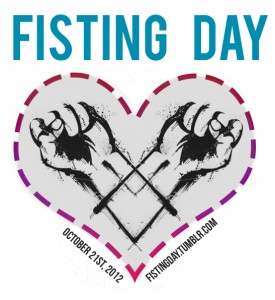 Fisting day is a global event, celebrating and debunking the negative stereotypes of fisting, a sex act that uses the entire hand.
Fisting Day was created in 2011 by co-founders Courtney Trouble and Jiz Lee. Coinciding with the release of the banned and censored film Live Sex Show, directed by Trouble and starring Lee and the legendary Nina Hartley in a fisting scene, Fisting Day began not only a celebration, but a call for awareness – this sex act is banned and censored in most forms of adult entertainment, and that fear is reflected outside of the sex industry as well.

We believe that sex-positive education, exposure, information, and discussion is an easy cure for this fist-phobia!