---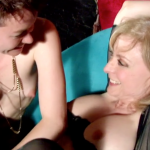 Well, those names got your attention, huh? You heard us right. Nina Hartley and Jiz Lee, together, on the same couch and fucking. Porno dreams have just cum true. And hard.
This scene was performed in front of a live audience at the Center for Sex and Culture, for its anual Masturbate-a-thon.  It was Nina and Jiz's first performance together and includes incredible consent, demonstration, dirty talk, fisting, hitachi fun (aka: buzzy thing), safety and tons of laughing from the panting audience. This is up there with one of the hotest scenes we've ever had the pleasure of shooting or witnessing. Your life will actually be better from watching it and then you'll wanna watch it again, over and over. We promise. You're welcome.
Please note: Jiz Lee prefers the pronoun "they," though it wasn't used in this scene! Thank you.
Member's Only: Watch it Now!
Click on the icon in the corner to watch this full screen!
If this video isn't working, you should try logging in first, then come back and press play! Only subscribed members should be able to play this video – if you're not a member, join now and get instant access to this scene, and everything else on the site!
Not a Member? Join Indie Porn Revolution for 9.99 and get instant access to this scene!