Nominated for a 2013 AVN Award for Best Web Premiere!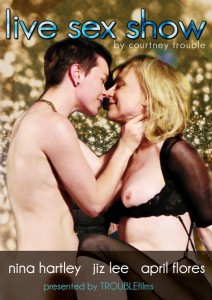 Released: October 21st, 2011
Directed By: Courtney Trouble
Produced By: TROUBLEfilms and the Center for Sex and Culture
Starring: Nina Hartley, Jiz Lee, April Flores, Courtney Trouble, Tina Horn, Jolene Parton

Courtney Trouble's 12th film, entitled Live Sex Show, was shot in front of a live audience of 200 people at 2010's San Francisco's Masturbate-a-Thon. Featuring Nina Hartley and Jiz Lee in an educational yet filthy finger-fucking scene, April Flores and the Matador in a dramatically-lit, cock-slurping, pussy-pounding love story, and Courtney herself in a climactic surprise 5-on-1 porn-star-on-director gang bang! This film marks her very first independent release under her new company TROUBLEfilms, which will umbrella all of her films, video projects, and porn web sites. Live Sex Show was filmed with major help from Carol Queen and Robert from the Center for Sex and Culture, and benefit the Center financially through DVD sales and screenings.