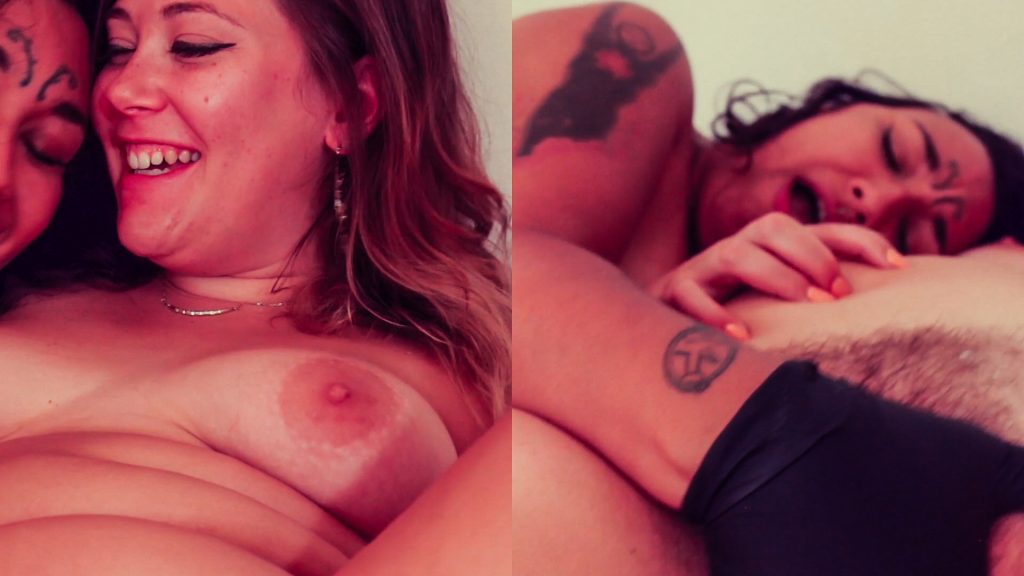 Fucking Against Fascism
Film by Courtney Trouble & Chelsea Poe
In this film, we explore what it means for the revolution to begin in the sexual body. This xxx queer porn film, which features 4 neon-lit exxxperimental sex scenes, stars trans man Jade Phillips, plus size genderqueer Courtney Trouble, trans lesbian submissive Chelsea Poe, non-binary babe Lyric Seal, curvy femme witch Suzie Squirts, and feminist porn avenger Sinn Sage.
In the first scene, Courtney Trouble directs Chelsea Poe in her first indie solo scene, shot with subliminal messaging inspired by The Revolution Is My Boyfriend by Bruce La Bruce. Next, Lyric & Suzie celebrate a birthday with a Slutist tarot card reading and end up getting really, really gay. Then, Trouble invites Jade into their bedroom for an intimate naked strap on fuck set to music. Finally, Chelsea Poe and Courtney Trouble meet up with Sinn Sage for a sex worker self care orgy, in which everyone squirts and Sinn and Chelsea manage to hold hands inside of trouble's cunt.
This film was conceptualised as a way to make something on a small enough budget that we could use it to raise money for life-saving charities, but grew as each performer, brilliant and talented in all they do, brought their own intentions and meanings to this erotic project. Portions of the sales from the film will be donated monthly to Trans Lifeline, Black Lives Matter and other organizations resisting the up-rise of fascism around the world.
VOD Release: March 15th at RealQueerPorn.Com.
World Premiere, March 17th 2018 in London.