A brand new film from TROUBLEfilms might not change the world, but it might make it easier to bear, which is why we are happy to announce that Fucking Against Fascism is now available only as a digital download through the film-makers and RealQueerPorn.Com. You can purchase it here.

---
"I think it's about seeing the moments where the revolution rests in the body, or in some cases maybe the sexual body is where the revolution begins," Courtney Trouble says about the potential meanings behind Fucking Against Fascism, the film they made with Chelsea Poe.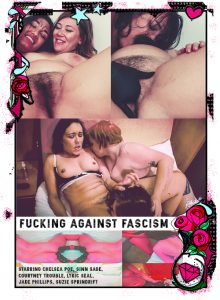 This film is full of activists but the vibe feels effortless, casual. More high art than high alert, "but I think that's what makes it an interesting take on what an anti-fascist film could look like. Like, more conversational?" This film resides somewhere in between Bruce LaBruce's The Revolution Is My Boyfriend and Four Chambers, who use home-made effects to fuck with the visuals and are part of the current indie porn scene.
"We use our signature neon lights and ambient noise to make our mark, but that hybrid of political meaning and sensual voyeurism is part of a larger conversation of porn that questions the status quo and refuses to conform," says Trouble, who gets double-penetrated by Sinn Sage and Chelsea Poe in the final scene.
Fucking Against Fascism is also a benefit film (like TROUBLEfilms' first release Live Sex Show) which was kind of why Chelsea Poe pitched it in the first place – to have donation money. One third of the profits of the sales of this film from RealQueerPorn.Com will be donated by Chelsea Poe. Trans Lifeline, Black Lives Matter, and a few other places will be benefactors if the film has continued sales online.
---
Plus, Fucking Against Fascism on Tour!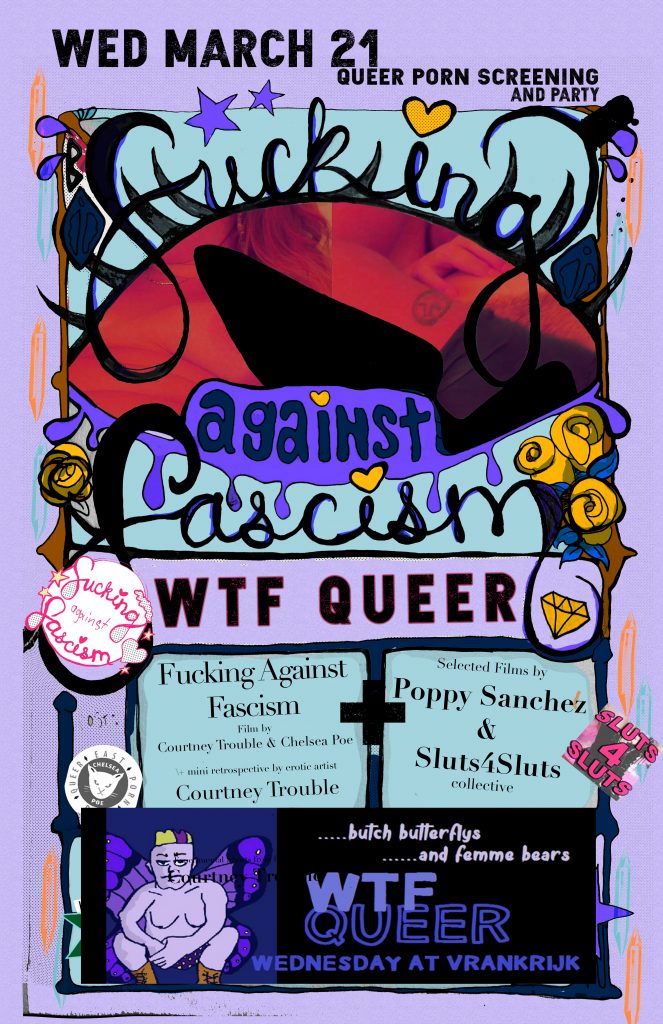 Visit the Troublefilms Events page to get details for all of the upcoming screenings related to the release of the new film, including in-person premiers in London, Paris, Amsterdam, and Berlin later this week. TROUBELfilms and the Euopean-based Sluts4Sluts Collective will be showing together on this 4-city tour, with special local guests in every city!
TROUBLEfilms and Sults4Sluts European Tour Dates:

---
Tour Bios
Fucking Against Fascism
The impact we make as queer sex workers, artists, and activists is not limited to our ability to fuck but in this film, we explore what it means for the revolution to begin in the sexual body. The revolution will not be televised, but it will be documented. Trans bodies, people of color, and plus size babes are front and center in the conceptual and material creation of this 60 minute explicit queer porn film, which features 4 neon-lit scenes starring trans man Jade Phillips, plus size genderqueer Courtney Trouble, trans lesbian submissive Chelsea Poe, non-binary babe Carnegie Velvet, curvy femme witch Suzie Squirts, and feminist porn avenger Sinn Sage. 60 minutes.
Sluts 4 Sluts Collective
Films by Leo Leander, Rooster, Dion De Rossi
What makes us sluts? The need to explore our gender and sexuality outside of cisheteronormative limitations, the desire to decolonise and reclaim our sexual agency – or just a rampant desire for a filthy queer orgy! This is the world premier of sluts4sluts as a collective, and we can't imagine a better way to explode in to the public scene than alongside our idols at QueerPornTV. We have Spin the Bottle, a neon pink femme dreamscape starring non binary babes Dion De Rossi, Leo Leander and Mahx Capacity, as well as a sneaky peek at Queersome, starring Dion and Leo again with dreamboat Rooster.
Mircospective
Films by Courtney Trouble
Experimental short films, music videos, banned porn, & other video ephemera. 45 minutes.
Chelsea Poe is a small-town Midwestern artist living in Oakland, CA in the USA and making work that addresses the visibility of lesbian trans women in the porn industry. She was featured on the Trans 100 list after publishing a petition to remove derogatory slurs from the trans porn market, which received over 3k signatures and made more than three companies change their website names, award show names, and DVD policies. She is currently working on an experimental film tracking the US Republican primaries through the point of view of a hotel-bound traveling porn star, and is touring with her new film Fucking Against Fascism. When released, the film will be utilized as a benefit film to raise funds for anti-fascist charities like Trans Lifeline and Black Lives Matter. For work, Chelsea Poe organizes indie erotic films and world-wide tours for Chelsea Poe Productions, makes work for distribution at TROUBLEfilms, and works daily as one of AVN's Top 20 Fan Favorite Trans Cam Stars of 2018.
Sluts 4 Sluts Bio
Sluts4Sluts Collective is A radical UK based queer porn collective centring queer, trans, PoC, disabled, neurodiverse & survivor bodies. They aim to shift create a safe space for queer performers to express themselves authentically and create a body positive inclusive porn revolution for all.
Dion De Rossi is the femme porn prince of your queer teen dreams. They are an escort, performer and sexwitch working to carve out a space for body positive, camp and sleazy femme4femme sexuality in the Euro porn scene. DiscoTitts a.k.a Andie Macario is a Latinx woman of colour, sex working survivor, artist & founder of Sluts4sluts. Pronouns she/her. BitchSpit is a genderfucked butch dyke slut & queercore hero front woman of Tuffragettes. They are also one half of porn couple Butch4bbygrrrl alongside DiscoTitts. Pronouns They/Them. Bella Viscera is a kinky queer trans woman, part time queerlesque performer and part time porn performer. Pronouns she/her
2 URLS:
https://www.instagram.com/sluts4slutscol/
https://twitter.com/Sluts4slutscol