It's My Favorite Time of the Year, GAY CHRISTMAS.
Every June I say I'm gonna take it easy and focus on my pride party and make some fun porn with hotties form out of town and generally enjoy my summer.
This June was a little different. I am in the midst of recovering from a foursome wisdom tooth extraction (weee drugs) and I'm launching a new site on the TROUBLEfilms network this weekend, which you'll hear more about in just a few days – AND I'm planning a wedding, AND there's my pride party.
So, I wont be doing a WHOLE lot this week out and about, since my street team has me well taken care of and my cohost this year, an old bestie of mine Jenna Riot is pounding the streets of SF in fabulous platform heels, DJing every good party and will be bringing the babes to mine on Sunday. PHEW.
SO, here is where you will find me: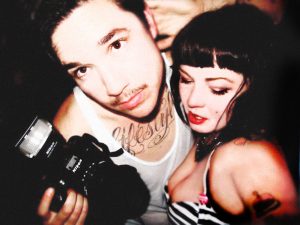 Friday night after the Trans March head over to the Elbo Room for the most awesome of awesomeness, the Original Plumbing official Trans March Afterparty, UNOFFICIAL! Original Plumbing is a quarterly print magazine with photos and features geared towards trans men and community. We love this magazine and the guys who run it, Amos and Rocco are old friends of Courtney Trouble, who will be there at the party repping QueerPorn.TV and giving out free copies of Fuckstyles, memberships, and giving away a few tickets to the Main Event….
QUEERLY BELOVED 2012
JUNE 24TH 2012 AT EL RIO. 3PM-9PM. HOSTED BY COURTNEY TROUBLE AND JENNA RIOT. LADY TRAGIC, DORIAN FAUST, AND JAMES DARLING PERFORM! + MORE!
This year, pride is for the queers! Skip the expensive, over-produced mainstream Pink Sunday parties and come straight (or gay!) to EL RIO in the Mission District to bask in the hot hot sun outside on the gorgeous patio, drink your drinks, eat some free pizza, dance to the incredible queer femme DJs we've got lined up, and for the first time EVER in San Francisco, watch Courtney Trouble perform her risque, edgy burlesque/performance art that made her famous!
LIVE PERFORMANCE BY LADY TRAGIK!!!
Dance to DJs CHELSEA STARR, JENNA RIOT, AND DEEJAY ANDRE!
Smoldering post-burlesque edgy sexy performances by FTM Porn Heartthrob JAMES DARLING, the Queen of the local Indie Burlesque scene DORIAN FAUST, and of course, queer porn icon COURTNEY TROUBLE'S triumphant return to the stage in a performance that will make you melt into a sticky pile of sweet, sugary lust.
High Art PHOTOBOOTH by Keep Drowning!
KINKY KISSING BOOTH hosted by CUM & GLITTER STARRING MAXINE HOLLOWAY
FREE PIZZA provided by Nick's Pizza Made in Oakland!
WIN A PRIZE JUST FOR SHOWING UP! Door prizes provided by 
QueerPorn.TV
Original Plumbing Glamarama and Good Vibes!
DRINK SPECIALS provided by El Rio – TBA
** The Official El Rio Pride Party! **
LADY TRAGIK
WE HAVE NO WORDS EXCEPT EAST BAY LA BABE VIDEO MUSIC ARTIST FASHION ICON SUPER STAR…
NEED WE SAY MORE? JUST SHOW THE FUCK UP!
With:
Courtney Trouble
Courtney Trouble is a film-maker, published and celebrated photographer, queer rights activist, DIY genius, and an award-winning feminist pornographer. Courtney is the founder of NoFauxxx.Com and QueerPorn.TV, as well of the director of 13 full-length films.
http://www.courtneytrouble.com
Dorian Faust
Dorian Faust is a dynamic creatrix, explosive performance artist, and inspired pop-culture icon. She is a classically trained dancer, actress, and vocalist. She made her Burlesque debut in New Orleans. In the fall of 2009, she became the first Burlesque performer to ever rock the stage of the Afro-Punk Tour. Most recently she has begun production on her own show, Livid Cult Burlesque Theatre, "The Bay Area's most subversively sexy indie Burlesque show". Inspired by fashion and drag icons her performances include thoughtful, high-concept storylines, striking visuals in costuming, and bold moves in subject matter.
http://www.facebook.com/burlesquesbasquiat
James Darling
James Darling is a FTM porn performer, boylesque artist and proud lady-loving trans fag. A fey southern gentleman hailing from the Dirty South, he hopped a Greyhound bus and headed west to pursue his dream of becoming a full time pervert. When this prince of queer porn isn't dancing his way into the hearts and fantasies of queers and queer lovers everywhere, he can be found working in a porn castle, riding his bike, drawing dirty pictures, consuming mass amounts of sugar, or rolling around in his own glitter.
http://www.facebook.com/darlingjames
Jenna Riot
Jenna Riot's is a fierce force of nature who makes your electro-pop dreams happen. Her style is innovative & unique.Not only does she work hard fixin' up beats & heartthrob bruises, she also raps and sings with KATASTROPHE in thier up and coming music project, Ice Cream Socialites.
http://www.facebook.com/pages/Jenna-Riot/227691178302
Chelsea Starr
"Hi. I'm a fancy lady dj from San Francisco, CA.
I started a big rad queer party, Hot Pants, in January 2002. It ran for 7 years and was super fun. Some other parties I've started with other people or by myself are: White Diamonds, House Partee, Nu Bay Rave, and Babe Cave. I've played at clubs all over the country from LA to NY to TX to FL, gay and straight, fancy and grimy."
http://www.facebook.com/pages/DJ-Chelsea-Starr/149277065114266
DeeJay Andre
DeeJay Andre is a San Francisco native with a passion for music. Over ten years of mastering multiple instruments such as the guitar, piano, drums, bass, clarinet, tenor saxophone, and her own voice, she is able to deliver an eclectic sound to the audience.
Over the years DJ Andre has performed in many locations as a Resident DJ, Guest DJ and Private Events. She hosts her own party FADED with the hottest DJs spinning Hip-Hop, Reggaeton, Dancehall and Bay Area Rap in San Francisco, CA.
http://djandresf.com/
Cum & Glitter
Cum & Glitter is a performer-owned and run production company that challenges the status quo of our industry by creating our own outlets for artistic sexual expression. We are committed to maintaining a healthy and creative space for ourselves as sex workers. In addition to live sex events we are creating opportunities for our community through support, education and performance. By bridging the gap between performance and activism, we intend to create a holistic environment that creates opportunities for sex workers in multiple ways. 
www.cumandglitter.com
Nick's Pizza: Made In Oakland
Made in Oakland! "Oakland Style Pizza" focuses on the good stuff: quality ingredients, delicious delivery, desserts & bringing people together over a meal.
http://oaklandstylepizza.com
QueerPorn.TV
Public access to queer kink, gritty sex-positivite hardcore porn, and real queer sex ed.
Proud modern sluts, feminist porn stars, sexy amateurs, trans men, trans women, genderqueers, cisgendered folks, fags, dykes, tops, bottoms, switches, real couples, sex educators, non-normative heterosexuality, sadomasochists, perverts, activists, punks, and artists at their kinkiest, raunchiest, filthiest, rawest, most passionate, radical, and real.
Queerporn.tv