TROUBLEfilms Welcomes Doing It Again Volume One: Playful Awakenings to our esteemed collection of trans porn available for retail and distribution now!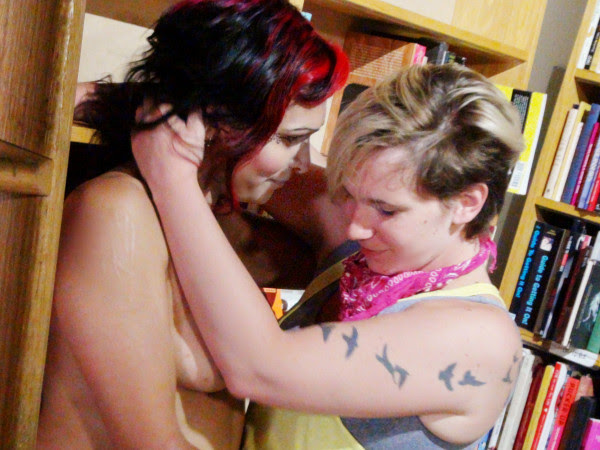 What we love the most about Doing It Again is it's playfulness and insight. We feel blessed to be seeing into the lives of trans women, and getting the opportunity watch them play with their lifelong lovers and newfound playmates. We have Tobi Hill-Meyer to thank for always letting her feature films shed light on real-life sexuality and are proud to be bringing her brand new film to the public.
The DVD and digital download are available today, and invite you to buy them directly from Tobi's brand new online store: handbasketproductions.com/store. Both will be up on my own online stores for sale next week.
If you'd like Doing it Again in your store, let me know and I'll take care of you personally, or you can fill out the order form at troublefilms.com.
Cheers, and happy holidays!
Courtney Trouble
owner, TROUBLEfilms
Handbasket Productions is announcing today the release of the first volume of the Doing it Again episodic series, Playful Awakening, Trans women with trans partners.
"While tv, movies, and mainstream pornography are obsessed with trans women's sexuality, there are very few opportunities for trans women to tell our own stories about sex and relationships free from  sensationalism, demonization, or exploitation," said director Tobi Hill-Meyer.
This release coincides with the re-launch of the www.HandbasketProductions.com website, along with a new online store that supports instant downloads. DVD contains the full set of accessibility features along with some exciting extras that are not available online.  We are also excited to announce the re-launch of our website www.handbasketproductions.com. This re-launch includes a brand new store with digital download capacity.
One of the trans women in the film was able to attend the Seattle area release party, Lilith von Fraumench, spoke of her hesitancy seeing herself on film. "I spent a lot of time going back and forth about watching myself when it came out. Eventually I did and I was blown away.  Damn, I thought, I'm really sexy!