Fetish Fvckdolls officially became a series today, with the release of Chelsea Poe's highly anticipated follow-up to the trans BDSM best seller. Fetish Fvckdolls #2 features Chelsea Poe in a curatorial role, piecing together trans BDSM porn from the UK and the US (among other places!)
You can get it at realqueerporn.com or at VOD outlets HotMovies and Adult DVD Empire..
The first film was nominated for an XBiz Award and AVN Award with three scenes exploring how trans women experiment and appreciate kink on screen. The second installment expands the genre with four scenes made by four distinct trans porn makers and their loving crews.
"Dream of Spanking is a real icon in BDSM so being able to collaborate with them was amazing," exclaims Chelsea Poe who not only cocreated the Fetish Fvckdolls concept but stars in each film. In #2, she works with the incredible Blake, who is also known as the genderqueer pornographer Pandora Blake, UK activist and erotic spanking artist. The Velvet Touch stars the two queer babes dressed to the 9's and getting frisky in a home library.
Blake begins the date by giving Chelsea the spanking of a lifetime, "marking the milestone collaboration of spanking icon and submissive icon," exclaims Courtney Trouble who directed this scene and matched these two together with hopes of sparking this exact iconoclastic chemistry on camera. "It worked!" says Trouble.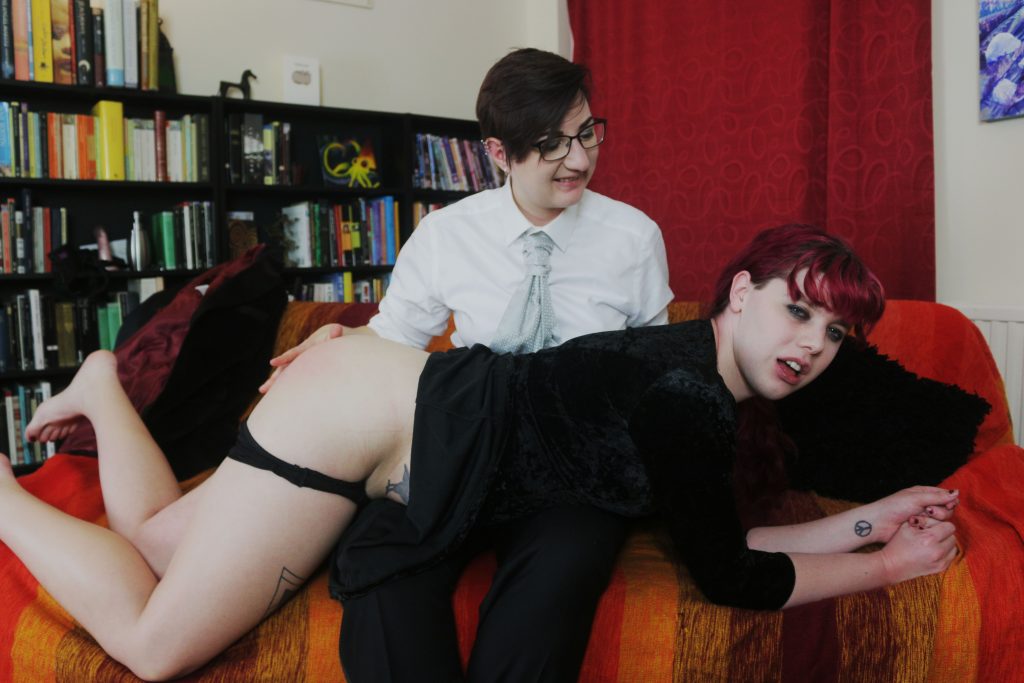 The Velvet Touch isn't the only scene that banks on perfect casting. It is hard to ignore the real-life chemistry between Rae and Cookie Cosmos and River Enza and Goddess Kyaa.
"Fetish Fvckdolls 2 is a powerful queer kink porn featuring gorgeous and innovative performers, says professional dominant and porn performer Goddess Kyaa. "River and I are honored to be a part of the second installment of Chelsea Poe's exciting project! This is exactly what the adult entertainment industry needs, fresh, sexy and full of beautiful queer folx."
River Enza describes the scenes as "A day in the life of slave girl River Enza…" in The Pleasure of Pain by Goddess Kyaa, co-starring Dominic Rystan. "She's taken into the desert, partially suspended from the rocks and beaten by two sadistic enby tops before returning to her master's dungeon for an intense session," says Goddess Kyaa of her directorial work. Enza is happily tormented, loving every moment of delicious domination as Kyaa and Dom take their time breaking her down. When asked what's in the new scene, Goddess Kyaa describes it as full of "knife play, slapping, spanking, caning, cropping, paddling, choking, hair pulling, spitting, pussy licking, cock sucking… her ass is filled and she's covered in cum, left aching and sticky… just the way she likes it!"
"It's amazing to be included in a project like Fetish Fvckdolls alongside some of the best performers working in queer porn today," says Rae Cosmos who makes a TROUBLEfilms debut alongside real-life lover and cage dweller, Cookie Cosmos. "Cookie spends a lot of her time in cages," the scene description begins. "Her wife Rae likes to leave toys poking through the bars so their pet won't get bored." When they (Rae) walk in on Cookie sucking several dicks at once they decide to take her out of the cage, chain her to the bars, and fuck her face and ass. Once they've decided that Cookie has had enough, they give her some intimate, loving aftercare, before letting Cookie back into the cage to get some well-earned rest.
Stefani Special returns to collaborate again on the Fetish Fvckdolls concept, contributing her own switchy narrative on the series. That is to say, in this film, Special is the Top! Nadia Vixen is a sexy stripper stressed out from sexual frustration in Sexual Healing, directed by Special. Stefani plays a body worker and sex worker who doesn't waste any time giving the horny stripper exactly what she needs after a stressful day. What's in the scene? Hardcore face fucking, bareback anal, hand spanking, restrictive rope bondage and even a clothespin zipper are implemented in Nadia's "Rough Healing," followed by her cathartic orgasmic explosion all over herself and Stefani's wet load of cum all her pretty face as well.
"Chelsea is a great curator, bringing together some passionate kinky, trans and queer individuals to contribute in their own ways to the creation of the continuation of this awesome queer power series. I'm super happy to be a part of this process again, the 2nd time around." – Stefani Special, co-creator, scene director, and performer of Fetish Fvckdolls.