New Membership Site and Clip Store Promises Sex Positive Porn with a Trans Female Focus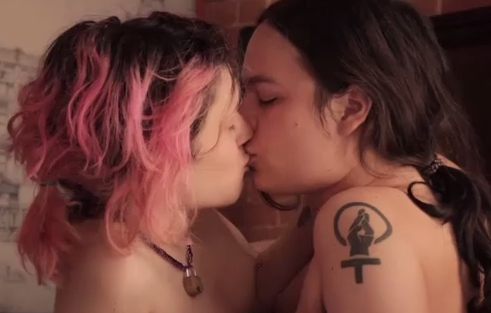 Today marks the launch of the newest addition to the TroubleFilms web network, DoingItOnline.Com, headed by award-winning filmmaker Tobi Hill-Meyer and featuring at launch time, powerful and passionate documentative hardcore adult cinema featuring a trans woman in every scene.
DoingItOnline.com is a collaboration between Handbasket Productions and Trouble Films, with fresh, trans female focused content created and curated by Hill-Meyer, and established and critically acclaimed porn site and affiliate direction by Courtney Trouble themselves.
Signups during the launch special will lock in a monthly price at just $15 a month forever. After the special, signups will cost $23 for initial signup, dropping to $18 per month and with steep discounts for 6 month memberships.
The affiliate program boasts a generous 30% commission. Visit http://doingitonline.com/affiliates to sign up.
DoingItOnline.Com joins other wildly successful TroubleFilms sites like queerporn.tv (nominated for multiple AVN and XBiz awards), indiepornrevolution.com, and ftmfucker.com. Its release comes hot on the heels of the first DVD in the Trans Grrrls film series, which won a coveted Feminist Porn Award this year.
"In the media lately, it seems like everyone gets to have their say about trans women's sexuality," said Hill-Meyer when reached for comment. "Everyone except trans women themselves. Doing It Online seeks to change that dynamic."  Featuring well-known trans women performers like Drew Deveaux, Hayley Fingersmith, Maya Mayhem and Tobi herself, upcoming updates will also showcase Jiz Lee, Kimberly Kills, Chelsea Poe, Chance Armstrong, and Kelli Lox throughout the summer and fall.
The original inspiration for the site was a small closed internet forum where trans women shared nude photography of themselves in a body positive and supportive environment. This space created a powerful positive effect in the lives of many trans women. In 2007 Tobi Hill-Meyer, working in collaboration with a number of trans women from that community, decided to take this a step further to make indie porn. It took three years for that plan to come to fruition with the release of Doing it Ourselves: The Trans Women Porn Project, which won director Tobi Hill-Meyer the Feminist Porn Award for Emerging Filmmaker of the year. In 2012 work was begun on the sequel, Doing It Again, aiming to mix documentary with pornography. With a highly successful kickstarter campaign, Doing it Again became a three volume episodic series, which won another Feminist Porn Award this year. However, the enthusiastic response to the 2012 casting call for Doing It Again, with over 100 people from 6 different countries responding, had made it clear that the need for accurate and honest representations of trans women's sexuality was bigger than the scope of that project. Doing it Online was conceived to fill that space, a membership site that would house the entire Doing it series as well as generate the money needed to keep things going indefinitely with monthly updates.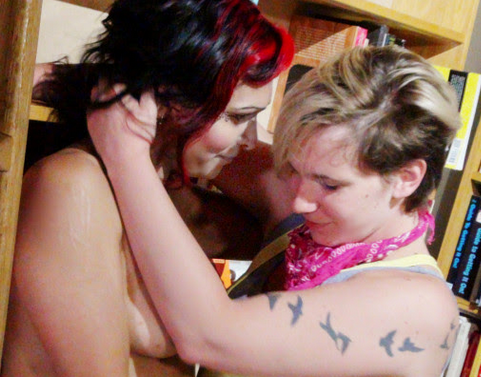 Hill-Meyer underlines that while the site features pornographic content, it's about a lot more. "Stereotypes and prejudices around trans women's sexuality influence public policy, access to healthcare, workplace discrimination, sexual harassment, "trans-panic" defenses in murder trials, and so much more.  Trans women are alternately portrayed as hypersexual, deceptive and predatory, or portrayed as desexualized and pathetic. The goal of this project is to create depictions of real humanity and allow trans women to take control over how their sexuality is portrayed."
"Doing It Online offers up true stories of love and desire, untainted by the usual tropes and stereotypes places on trans bodies and trans relationships. I love that this project goes beyond hot sex scenes, and plays with the concept that love and relationship dynamics can be a part of sexual fantasy." Courtney Trouble, producer at TroubleFilms, added. "Queer folks don't get a whole lot of realistic and positive stories written about them, and trans women even more so. Doing It Online is providing a window into the lives of trans women in a way that we just simply don't get to see in mainstream media, mainstream porn, or even queer porn. We're humbled and grateful to have Tobi heading this site under our banner as a creative and thoughtful porn director, who always looks for something deeper than bodies rubbing together. Her work is arousing and inspiring."
Trouble also cited the success of James Darling's project FTMFucker, saying that after two years it's as successful as the twelve year old Indie Porn Revolution. "I have every confidence that Doing It Online will achieve fantastic and similar success. It's a project whose time has come."