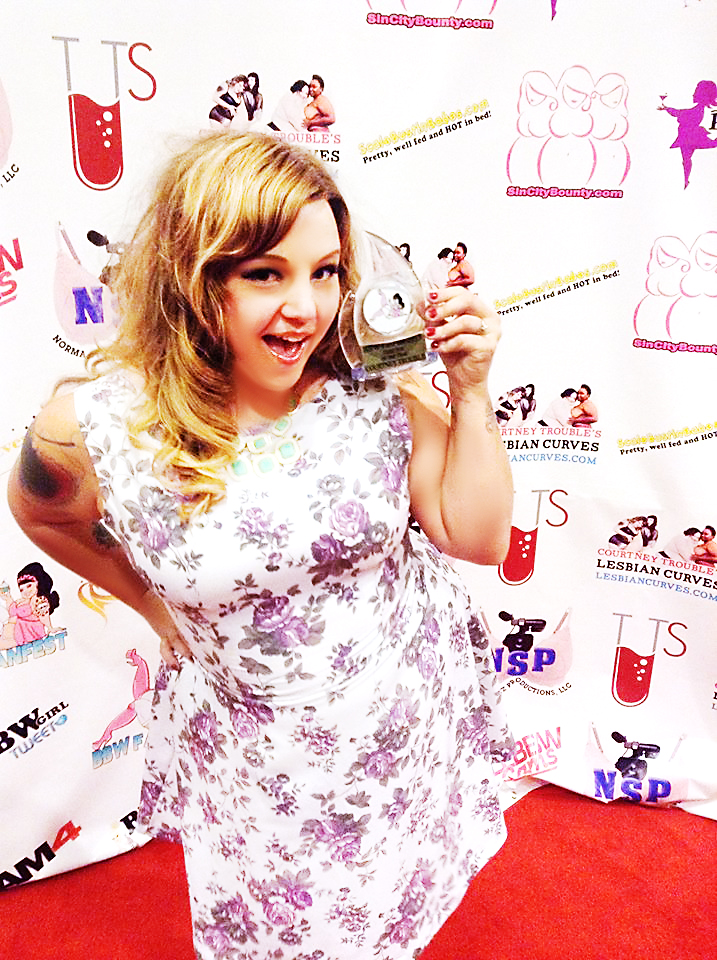 Immediately following the release of Lesbian Curves 2: Hard Femme, TROUBLEfilms founder Courtney Trouble won the coveted "Director of the Year" award at the second annual BBW FanFest held on July 27th, 2013.
The first of it's kind, BBW Fan Fest is "a trade show, awards show and parties all in celebration of curvy, plus sized BBW adult stars, models and webcam performers." The Director of the Year award marks Courtney's first win at the convention, where TROUBLEfilms also hosted a fan booth with Kitty Stryker, Betty Blac, and Cinnamon Maxxine signing photos and promoting the Lesbian Curves series, a plus-size focused queer porn project featuring authentic lesbian sex.
Courtney Trouble's acceptance speech was tearful, joyful, and personal: "I've been making porn for 11 years, and I started it because I was a fat girl in a fat-shaming world. And today I feel like I have family for the first time in this industry." Courtney added, "I am beyond thankful to my fans, my co-stars, and every single incredible performer that has graced my lens for helping me win the gift I've been given tonight. I still can't believe that I have been chosen as BBW FanFest 2013's 'DIRECTOR OF THE YEAR' I have so much gratitude. Thank you!"
Betty Blac, 2013 BBW FanFest Award nominee for "Speciality Niche Performer of the Year" and "Fan Favorite", and two-time Lesbian Curves superstar spoke of the significance of Courtney's win. "I was so proud to see Courtney receive this award. No one else is doing what she is doing, for as long as she has been doing it." Betty Blac continued on saying "This is a win for progressive porn." (Betty Blac can be reached via twitter at @bettyblac1)
In total Courtney Trouble was up for 7 awards at the 2013 BBW FanFest. In addition to "Director of the Year", they were nominated in 3 other categories ("Newcomer of the Year", "Specialty Niche Performer of the Year", and "Plumper of the Year")  and their companies TROUBLEfilms ("Studio of the Year") & QueerPorn.TV ("Multi Girl Site of the Year",  "Fetish/Specialty Site of the Year") were also up for 3 awards as well.
 The win at the 2013 "BBW FanFest" is a huge one for the Queer Porn Icon, and marks a significant moment in Queer & Body Positive Pornography.
Courtney Trouble also presented the award for Best Cam Site, and appeared on the controversial convention-closing panel where fans asked models and directors questions about shooting ethics, relationships with fans, and personal politics.