[wpcol_1half id="" class="" style=""]
Trans Grrrls
Out Sept. 27th 2013
Directed by Courtney Trouble
Honors:
Best Film nominee, Trans Porn Awards 2014
Feminist Porn Release of the Year nominee, X Biz Awards 2014
This queer porn epic is a smoking hot two and a half hours of cute hipster grrrl make outs, hot boy and girl costars, gender bending and blending, heavy petting,playful kink, strap ons, sex toys, oral, anal, muffing, public sex, squirting, cumming, role play, laughter – and even a little bit of love.
Borrowing the iconic language of the riot grrrls, Courtney Trouble is making a serious statement with this sex-positive punk rock porno: trans women belong, and should be forefront, in this here feminist porn movement. TROUBLEfilms hopes to add to the growing library of alternative trans porn available to the queer community, as well as show the mainstream world what can, and will, be done to improve the genre.
[/wpcol_1half] [wpcol_1half_end id="" class="" style=""]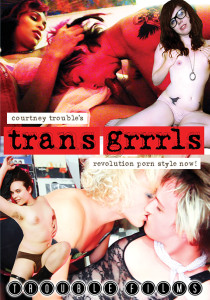 Release: September 27th 2013
Directed By: Courtney Trouble
Produced By: TROUBLEfilms
Starring: Dylan Ryan, Chelsea Poe, Maxine Holloway, Tobi Hill-Meyer, Emma Claire, Ned Mayhem, Hayley Fingersmith, June Day, Ari Crow, and more!

Available for VOD and DVD
[/wpcol_1half_end]