"cutest porn ever"  – Come As You Are, Toronto
"Director Courtney Trouble recruits real life Bike Smut couple Poppy Cox and Gasper Johnson engaging in pretty hot rough sex that is more real and daring as anything you'll find in a mainstream XXX release. Real because Poppy and Gasper look every bit like you and me, and daring because the sex for once isn't choreographed. It's sex captured in a completely natural way—raw, dirty, with no regard for the camera. If there were ever a better example of real "reality style sex" you won't find sex on camera any more real than in Come Find Me."  – AEBN
[wpcol_1half id="" class="" style=""]
A woman wakes up to an enticing Polaroid, inviting her on a bike powered scavenger hunt. After a lot of teasing she gets her she gets a thrilling reward.
A true collaboration, with a narrative shot by Bike Smut real-life couple Poppy Cox and Gasper Johnson – and a gorgeous, high definition, high art sex scene of the two of them.This is Courtney Trouble's first full-length DVD release starring a heterosexual coupling – though these two are far from straight and narrow.
[/wpcol_1half] [wpcol_1half_end id="" class="" style=""]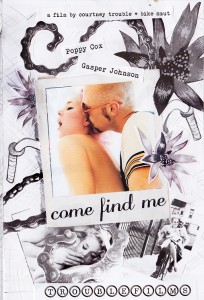 Release: June 1st 2013
Directed By: Courtney Trouble, Poppy Cox, & Gasper Johnson
Produced By: TROUBLEfilms & Bike Smut
Starring: Poppy Cox & Gasper Johnson, with a bonus scene starring Courtney Trouble & Bianca Stone
Available for VOD and special edition DVD with handmade packaging!
[/wpcol_1half_end]