Who Are The East Bay Brats?
Our lesbian femdom content shot in a real dungeon, is available through TROUBLEfilms and wherever the performers sell their films, largely ManyVids and their personal websites. Your purchase supports the making of sex-positive femme BDSM content. Thank you.
The East Bay Brats: a porn collective run by four professional BDSM performers: Courtney Trouble, Chelsea Poe, Ruby Riots, and Lita Lecherous.
East Bay Brats is a fuck club (like the original East Bay Rats Fight Club) and we hurt each other for funsies and for rocks. Mistress Lita takes charge in East Bay Brats – destroying ever single of us in the name of "play." This film includes it's fair share of FEAR & FUN. long term cage containment, electricity play, humiliation, rough sex, face dildos, LATEX, a sex swing, strap ons, mouth spitting, and sensory deprivation.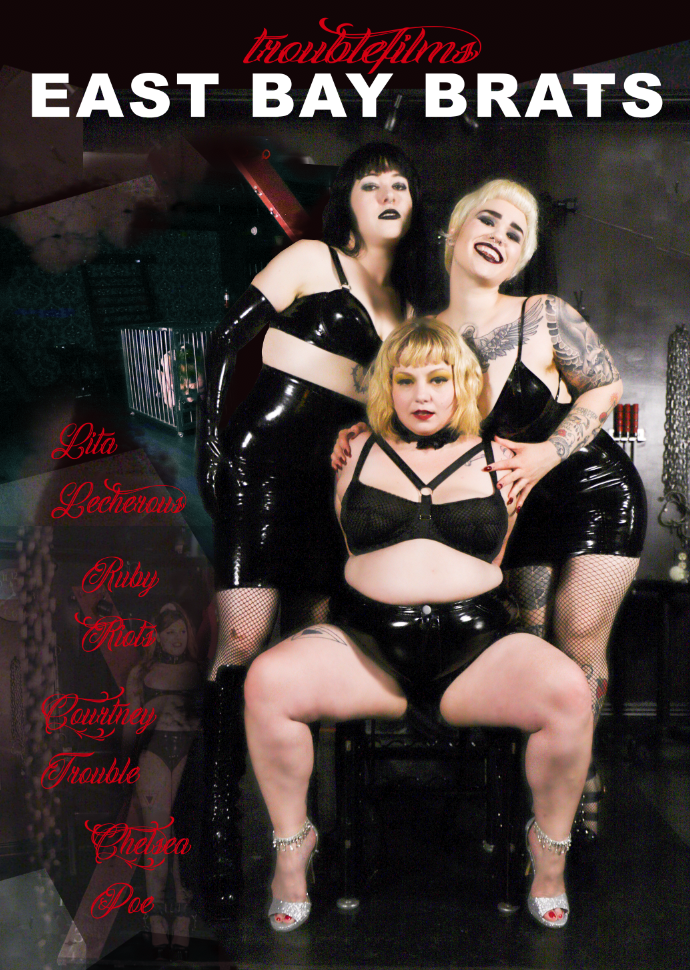 East Bay Brats
---
What Happens in East Bay Brats 1?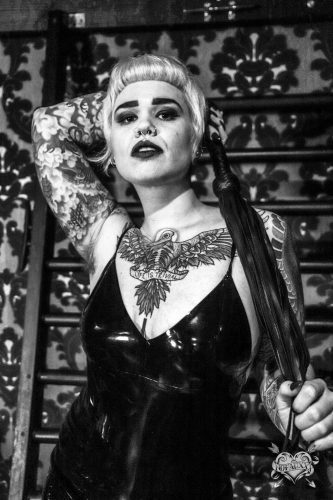 Deep in an unknown dungeon, the queer femmes of this lesbian femdom fuck club meet in secret and play out their darkest fantasies on film. In this full length feature, Miss Lita takes charge of a group of bratty bottoms. Courtney Trouble submits to Ruby first, then gets double stuffed by the two latex-clad dommes while tightly constrained. Then Chelsea gets captured on a cross and shocked with Lita's violet wand.
She is so frightened, her sweat ruins her make-up and makes it hard for her to come, until the nice Lita lets her touch herself. It was only a ploy, for after Chelsea cums she is put into a cage and ignored while Ruby takes a turn on the cross and getting shocked by her mistress. This electro scene is intense and loving and ends in Ruby screaming in orgasm. Lita gets horny after all this and hops into a leather sex sing. Ruby is allowed to fuck her with a dildo face mask, and finally… Chelsea Poe gets let out to eat Lita's dripping pussy.
---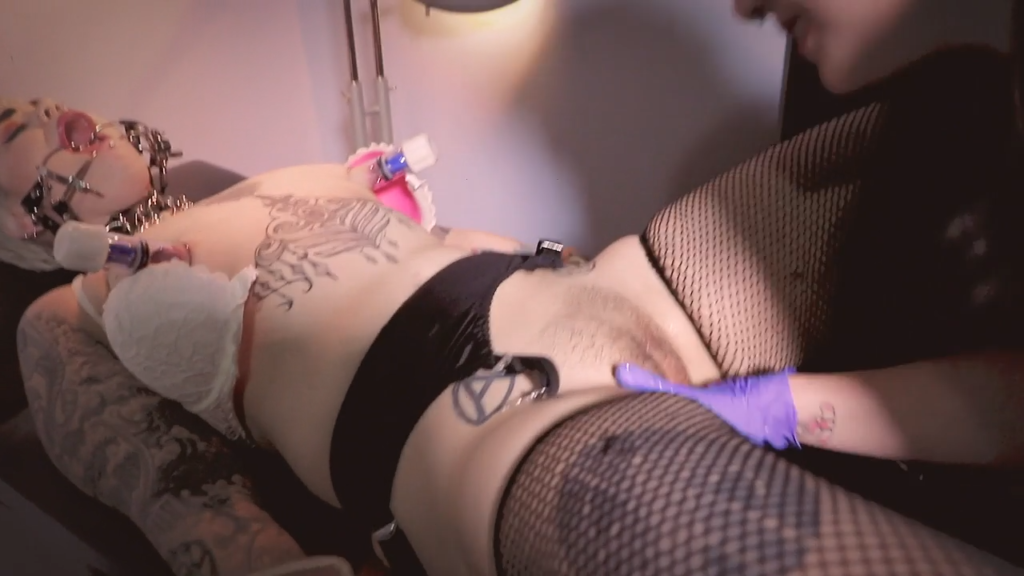 What Happens in East Bay Brats 2?
East Bay Brats Volume 2, another excellent lesbian BDSM porn, brings us back into the fuck club, in this case Lita's dangerous new upgraded demented dungeon, where Ruby and Courtney have gotten braver in their service and Chelsea Poe sinks further and further into her submissive roles as fuck furniture. Who will come out on top by the end of another delve into the dark underbelly of femme BDSM's best kept secret fuck club?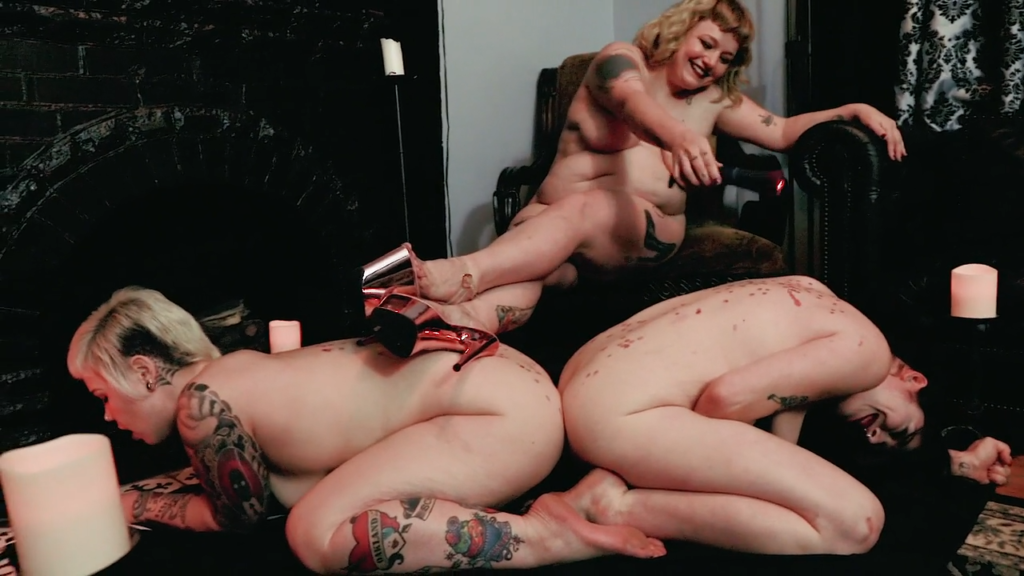 ---
What Happens in East Bay Brats 3?
The third volume of the lesbian BDSM porn East Bay Brats trilogy is here, and Mistress Lita has left her two skill-full servants alone in the mysterious dungeon. The dark hallways of the mansion reveal new torturous rooms and devices for Ruby and Trouble to play with, but there's only one glitch: Lita invited a new brat, Nova Sky, to be trained while she was away. Drats! The brats have to work?
They attempt to break in Nova, but she's ready to go and quickly had Ruby and Trouble in deceptively dangerous binds in different rooms. Rope bondage and leather cuffs keep them apart while Nova does her dirty work, asserting her dominance in the household right away.
After the two brats are impressed and subdued by the new acquire, the three femmes go on to enjoy themselves with a party. What every party needs, of course, is a party favor – so they bring in the house pet Chelsea Poe, put her on spreader bars and various other instruments, and start fucking her holes. This blind-folded 3-femmes-on-1 session culminates in Chelsea squirting all over herself, unaware of which brat is fucking which of her holes.
East Bay Brats 3 was shot February 2020. This trilogy marks the end of the first Season! Enjoy the first three volumes and don't worry, the lesbian femdom Brats Will Be Back.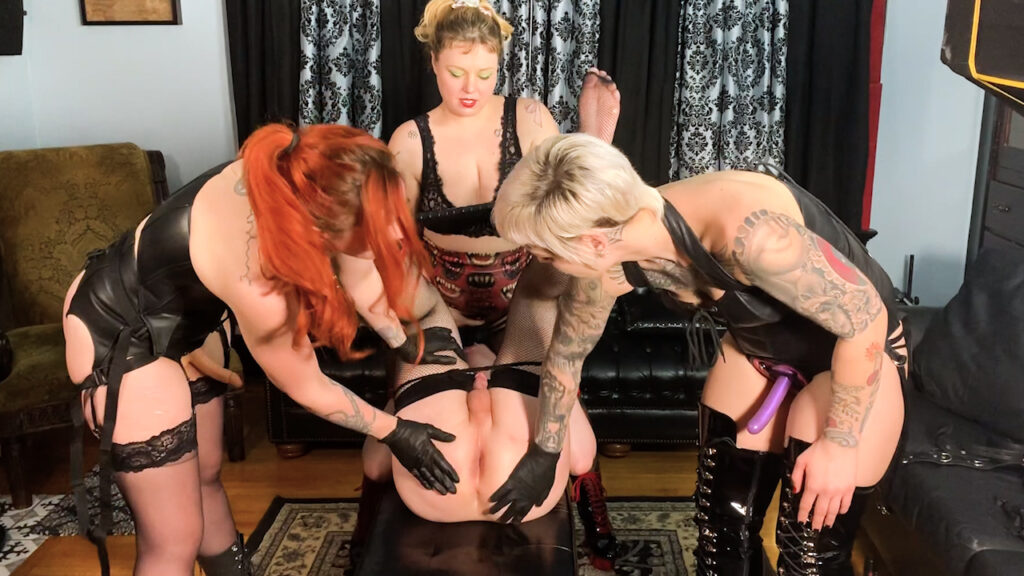 Explore the East Bay Brats category in our online store and pick a full length film or pluck one of the scenes out to keep forever.