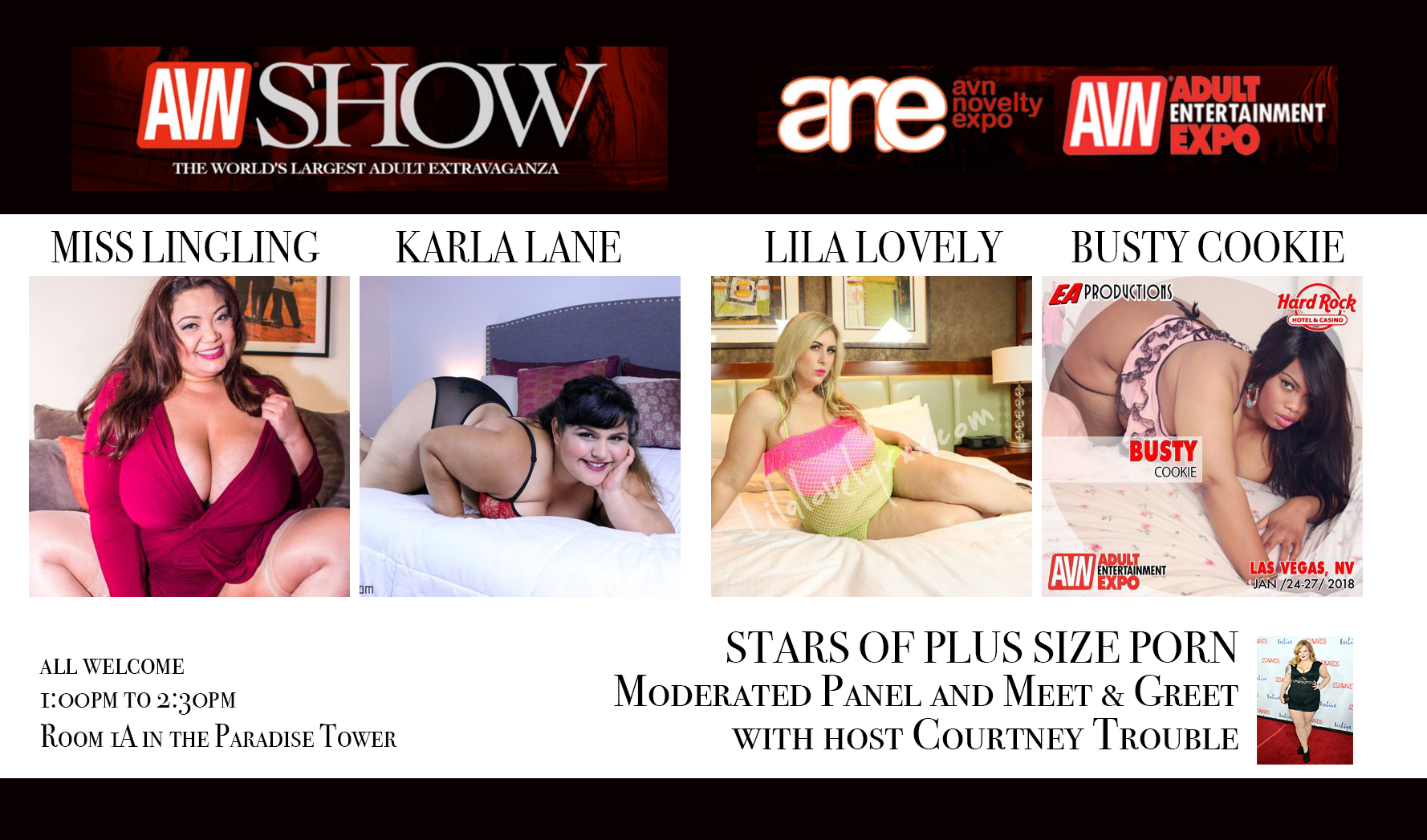 I Have a Big Beautiful Announcement! The Stars of Plus Size Panel this Friday in Vegas as part of the AVE Expo, and it is going to be hot!!

This panel features plus-size performers who will address what they love about the current pornscape, how they are pushing forward and innovating, what works, and what they hope to see happen in 2018-19. Hosted by Courtney Trouble of TROUBLEfilms.
Stars of Plus Size Porn (hosted by Courtney Trouble) is on of the first workshops open to members of both the AVN Expo and the AEE B2B convention. Other presentations during the inaugural Workshop Program for the AVN Show include "Cannabis and the Adult Retail Space" and the launch of Vibrator Nation: How Feminist Sex-Toy Stores Changed The Business of Pleasure by our dear associate Lynn Comella, Ph.D. associate professor of gender and sexuality studies at the University of Nevada, Las Vegas.
Other topics include Wikipedia and Your Brand, Legalities of Content Production, and presentations by the Free Speech Coalition and the Adult Performer Advocacy Committee. Workshops will take place in the seminar room 1A, next to the elevator bank in Paradise Tower at Hard Rock Hotel & Casino Las Vegas. The Workshop Program is set for Wednesday, Jan. 24, through Friday, Jan. 26. For a complete list of topics, times and dates, visit NoveltyExpo.com or AdultEntertainmentExpo.com.
TROUBLEfilms is nominated for some AVN Awards, specifically in the Fan favorites categories. If you would like to see us win, please give Courtney Trouble and Busty Cookie your votes for BBW Performer of the Year, Bella Vendetta and Courtney Trouble for Indie Clip Star of the Year, and Chelsea Poe for Trans Performer of the Year and Best Trans Cam Star.
Voting ends on Jan 26th 2018 12:00 PM. You can cast 5 votes per day for this category