QPTV has been neglecting it's lovely blog, and we intend to start making up for that right now with an intimate conversation with QPTV director & performer Chelsea Poe about producing her own porn, politics, her love life, and her brand new film The Submissive Mixtape. The interview was given by Courtney Trouble, who distributes and stars in Submissive Mixtape as well – and just so happens to be one of Chelsea's closet friends.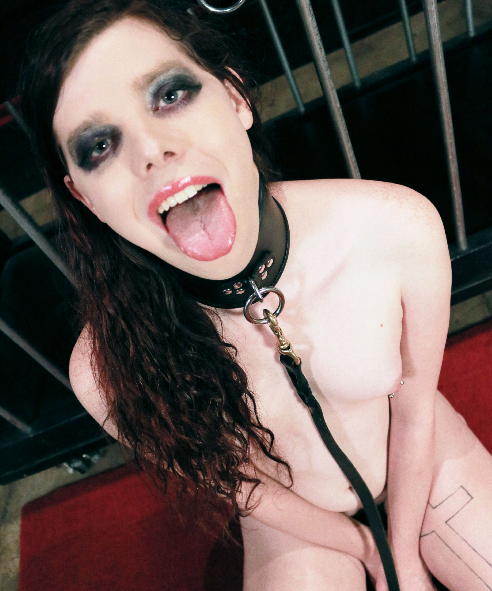 CT: Hi Chelsea!
CP: Hi!
CT: Thanks for sitting down to talk to queerporn.tv. We think you're awesome, so awesome we decided to revive our blog with the person our members and fans adore the most – you!
CP: Great, yay!
CT: …So what motivated you to become a porn performer
CP: A lot of performers like sasha grey, stoya, you, jiz lee, really inspired me to do porn as more than just like, something for people to get off to. It's about activism and a lot more of an artistic thing. I didn't see a lot in trans porn and still really don't see tons that reflect my sexuality, so i just want to make more so it can be seen more. Trans women and queers can see what they find is hot, in a really positive way.
CT: Are your porn performances similar to your off-camera sex?
CP: Yeah, I think theyre like, identical. I have sex in a very performative way, that's just part of my sexuality. Maybe that's why I feel like it's such an artistic and emotion thing for me, because it's something that's integrated into my life.
CT: One thing you've spoken a lot about in interviews and social media is porn opportunities for trans women who can't or don't penetrate others phallically. Can you speak to why always representing trans women as tops in porn can present a lot of issues for trans women?
CP: There's the whole idea that our bodies work like men, with these hard cocks that cum huge amounts. I'm happy I squirt a lot while still on hormones, and some women can top – but what usually happens is in porn is that you're guaranteed to get more work and more money if you can get hard and top, and that easier you go off your hormones. The stereotype motivates people to mess with their hormones and could present a health risk. It's also just not how all trans women have sex at all, we should have options for how we are seen in porn and also have options in regards to our health.
CT: Yeah, it really seems like that aspect of porn really need to change. It needs to be a little more diverse so that trans women can be represented more fairly in porn. We know you're a kinky person – how do your feelings about these stereotypes relate to trans kink porn?
CP: Mainstream trans kink porn doesn't really exist. K*nk.C*m has trans performers, but mostly in scenes where the "kink" is her body, not humiliation or rope or whatever. Maybe you'll have a trans woman tie a cis girl up and fuck her. Trans women dommes are amazing and that's so empowering, but when that's all there is, it's putting us in this very narrow box of how we can have sex, and it gets to be difficult wether you're working in porn or a fan of porn.
There's no images of trans women subbing anywhere, and that's why i wanted to make this mixtape and elaborate on what little is out there around trans kink. I also think it's important to show that BDSM doesn't equal violence from a feminist standpoint. I see Submissive Mixtape as a major step to show that trans BDSM exists and show it in a sexy and healthy way.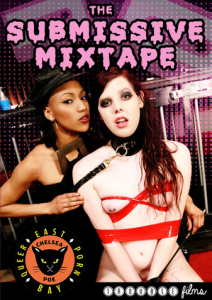 CT: How much of Submissive Mixtape is a real life fantasy? Do you feel like it's what they like to call "an authentic representation of your sexuality?" Do your performances feel "authentic" to you?
CP: Yes – all the BDSM porn I've been shooting lately is based on my own fantasies. Porn has been such a safe place for me to explore them. My next project Training of Poe will be all BDSM too.
When you're doing things you're actually interested in you're gonna make better porn. If you're into it, it's gonna come across in your work. I feel like if you go into making a movie, looking at what everybody else is doing and try to compete or copy it, that makes things dull. I think going into BDSM is part of something I wanted to do as a performer since I got into the industry.
CT: This whole idea of a performer releasing their own scenes makes so much sense on so many levels. It's too early to know if Submissive Mixtape will be wildly successful, ignored, or a cult classic since it's so one of a kind. Do you prefer owning your work and taking that risk of investment on your own to make stuff thats true to you, rather than work for others and hustling for those larger per diem rates? Is there a difference in the quality of your work? Or the quality of your experience at work?
CP: Everything's really different. Like, if you go into a shoot like My TS Student and they give you a script and you're doing what the director wants to do – you can have a really amazing time doing that, just being the star! But at the same time like having so much control over my own work, if i can have it from start to finish. Its a lot more work to do than just showing up for work. You're working on your own film for nine months, like Fucking Mystic with you and Ajapop, really prepared me to do more on my own.
It's way more important to me to make my own stuff, but it's definitely a fun thing when I just get to work for other companies and focus on being a performer. I just really love creative freedom.
CT: That creative freedom really rings true in Fucking Mystic and in Submissive Mixtape. And it does seem to be centered a lot around kink and various role plays. There's a little bit of kink in all of your best work. Do you see yourself as fully submissive, or somewhere in between submissive and dominant?
CP: I've had a few different doms in my life but i guess I'm a switch. I wouldn't say I'm fully submissive, I do like topping people sometimes. I'm a sub-leaning switch.
CT: Are you more into being submissive to the mental aspects (humiliation, domination) or physical (bondage, impact play)?
CP: It's all mental for me. I obviously like bondage and everything, but if there's no mental thing there, it's nothing. I think that's why I'm a great performer, I am focusing on the mental aspects of the situation and the role I'm playing, and I portray everything mentally and emotionally – it's not just physical. I'm invested and I'm so psychological in my sexuality its really allowed me to portray roles more in porn.
CT: I love that answer so much. What are some of your favorite power dynamics?
CP: I'm really into pretty basic lesbian domination, with a mistress. I'm really into humiliation.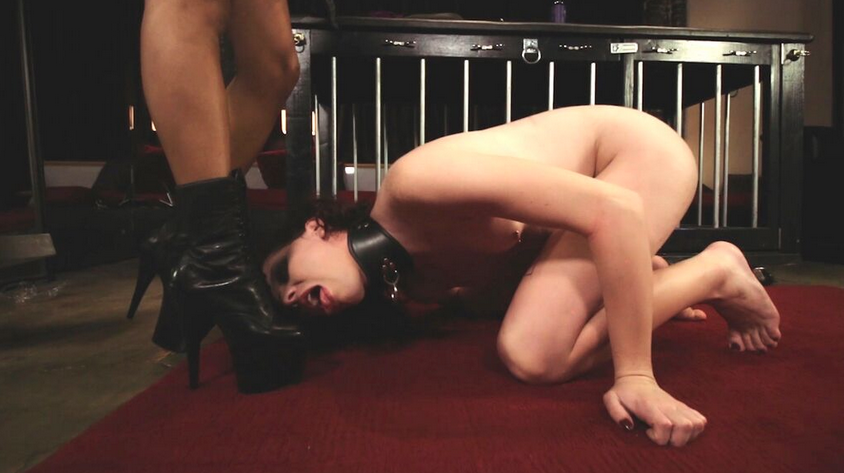 CT: You look like you're in heaven in your scene with Nikki Darling, which was directed by our pal Ajapop…
CP: It was a really great scene, really so at the core of my sexuality. Nikki is an amazing performer.
CT: And in your scene I directed of you and Jade Phillips, things get pretty hardcore and gonzo. We usually associate these kinds of camera angles and movement to be associated with mainstream porn. How can mocking mainstream porn in a queer context be a good thing?
CP: I think its great when you start to mix all the things that influence you. It gives you something new that people haven't thought of. If you wanna see two trans people fucking in a really traditional mainstream porn setting like, most people would never really think to make that happen. Creating things like this scene that are also really creative and everyone's involved, then you get something pure and real and actual art. Reaching for influences outside your norm is important.
It is really strange to see my work doing as well as bigger titles but then see that it's such a different fan base that's into it.
CT: Well yeah and this is QPTV you're talking to so you're like, the goddess of this website.
CP: It's so cute and such a fucking dream
CT: Everyone who reads this is your fan! (Or a stalking TERF, or someone with a lot of jealousy issues checking up on yr shit, as they do…)
CP: haha, there's always someone who has heard enough from me.
CT: im not sure QPTV fans will ever get enough of you. this is like, your world. what do you wanna see happen next? what can your fans get up to?
CP: i would say… support trans queer porn performers and support porn that's unique, it's really important.
CT: In your scene with FoxHouse you're convinced into sucking a cis mans cock on camera. Was this your idea? Did you enjoy it?
CP: Yeah, this has been one of my fantasies for a really long time. It does go back to lesbian BDSM, I guess that's how my queerness comes out. I like being forced to do straight things or told to do things in general. I had a forced straight fetish for a long fucking time, and it was one of the hottest things to actually be able to fulfill it. It was amazing. I really loved it. And, I feel like there was a little take on the complicated term "gold star lesbian."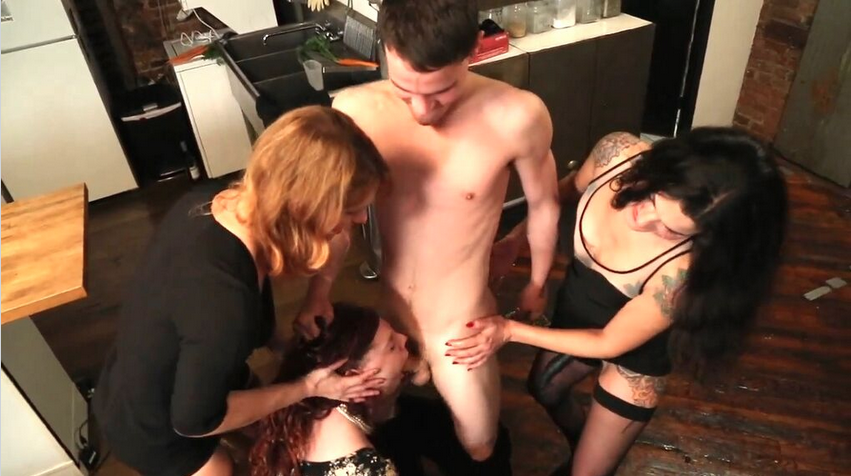 CT: It doesn't show a whole lot of maturity or security of self that you would bank on that notion of "gold star" lesbians are somehow more pure because they've never interacted with a penis. by questioning "gold star lesbian" you sort of shatter the heteronormativity of that desire binary system. You can be a lesbian and still interact with all kinds of genitals.
CP: Sexuality doesn't necessarily fit into black and white and neither does gender.
CT: And at the same time it's still really important for non-binary folks like us to still be able to say, like hey yeah I have and prefer lesbian sex, this is my sexuality, this is the majority of my experience – but also fuck the binary.
CP: I have very lesbian feelings around dating, I'm not sure I would ever date someone who identified as male. I like dating women, I like my girlfriend.
CT: oh.. i didn't ask anything about our scene. oh yeah. ps. totally forgot that we have a scene together in submissive mixtape and i feel like qptv fans would be really pissed if we didn't talk about it.. soooo
CP: i wanna give no comment on that i think they have to watch it. theres no way to sum that scene up
(silence)
(laughter)
CP: watch the porn.
CT: alright fans you heard it hear first, you know what your assignment is!