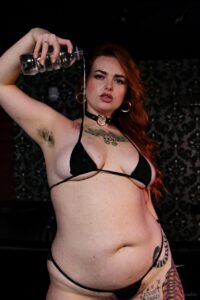 Trouble Films has released its latest film, "Slippery Sluts," directed by the talented Adora Bell. This all-female cast film explores the art of using Nuru gel and coconut oil to create a fun and pleasurable atmosphere for the actresses while promoting body positivity and inclusivity.
With a runtime of 2 hours and 6 minutes, "Slippery Sluts" stars Adora Bell, Sinn Sage, Courtney Trouble, Chelsea Poe, Zuri Love, and Sydney Screams. This impressive lineup of performers delivers a sensual, playful, and messy performance that is sure to leave viewers satisfied and wanting more.
According to Courtney Trouble, the owner of Trouble Films, "Slippery Sluts" is an amazing film that embodies the values of body positivity and inclusivity that Trouble Films is known for. "Adora Bell's direction and the cast's performance in this film is absolutely amazing, and I am proud to release it through our platform," Trouble stated.
The film is available for download in MP4 format on troublefilms.com/shop.
This series showcases big butts, hairy pussies, oily feet, oily tits, oily bellies, and everything in between. From finger blasting and pussy fucking to dildo play and thigh highs, there's no shortage of tantalizing action. Watch as the performers pleasure each other with a variety of toys, including the hitachi, vibrator, and lesbian double-ended dildo. The chemistry between these curvy, thick, and chubby babes is undeniable, with plenty of moaning, kissing, and make out sessions that are sure to make your heart race.
From Sinn Sage and Adora Bell's intense scissoring and squirting scene to Chelsea Poe and Adora Bell's erotic oily wrestling, the film offers a variety of scenes that showcase the actresses' different body types, hair preferences, and ethnicities. Adora Bell's goal in creating the film was to uplift the community and to show how sex can be fun and playful, regardless of body types, genders, or sexual orientations. The film is a great representation of queer porn that embraces diversity and promotes body positivity.
"Growing up, I loved nothing more than getting messy and rolling in the mud with my friends. As an adult, I've discovered new materials like Nuru Gel and Coconut Oil that allowed me to indulge that childlike desire in a more adult, sensual way. It was like adding an outer layer of being coated and messy and gross while doing something naughty and laughing with friends. And not only did it make me feel good, but I was able to make others feel good too, even those just watching. Starting porn was an expression of self-love and community uplifting for me. It was important for me to show how attractive all kinds of bodies are. That's why Slippery Sluts is such a great representation of that. It showcases the beauty and sexiness of trans women, women of different ages, colors, and body hair preferences. I wanted to convey the message that porn and sex can be fun, silly, and playful. After all, it's sex! It should make you smile and feel good. My hope in creating Slippery Sluts was to make people feel good about their bodies and who they are. I wanted to empower them to be different and playful and have sex with others with no shame. Because being different is what makes us unique and beautiful. And it's important to celebrate that."

– Adora Bell, director/producer of Slippery Sluts
For press inquiries or more information about "Slippery Sluts" and other Trouble Films productions, contact info@troublefilms.com. Don't miss out on this fantastic film that celebrates pleasure, positivity, and inclusivity.