We spoke with Sinn Sage about her newest film Sinn & Drake's Strap on Threesomes, where she and her husband get together with four porn starlets for a fun female-centered threesome – often culminating in some double penetration where Sinn and Drake are rubbing up against each other inside their lovely costars!
What makes working with your partner so special for you?
While I will always passionately adore making love to babes on my own, doing it with the love of my life is one of the most fun and pleasurable things I can imagine. The fact that my life partner Drake actually encouraged and inspired me to don the strap-on for some threesomes is just the icing on the cake of this super horny and real threesome adventure film! Maybe I'm just lucky, but after 11 years of being with my love, I still find him desperately sexy and attractive and I love to fuck him and I love to share!
How was Strap On Threesomes made?
All the scenes were shot with performers we consider our personal, real-life friends. These were all girls with whom we have gone to parties and events with, just because we love them in real life! One scene was even done just completely spontaneously, and it is so much fun to know that as a couple, our friends trust us and actually WANT to hook up with us. That genuine desire and chemistry shows through in the movie, and shows how much fun group sex can be.
Everything was shot in the comfort of our own home. Two scenes in the bedroom, and two scenes on the couch. I love when I can make something so intimate and real, a little window into our actual life, because it IS our real life, in our real home!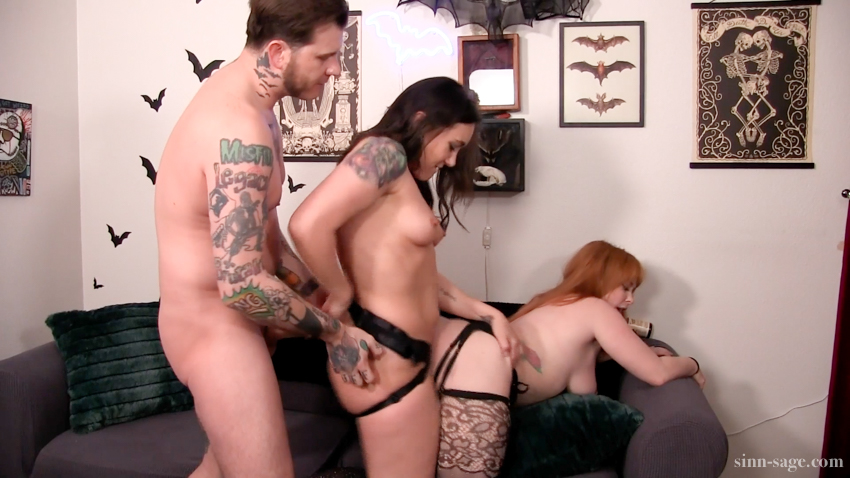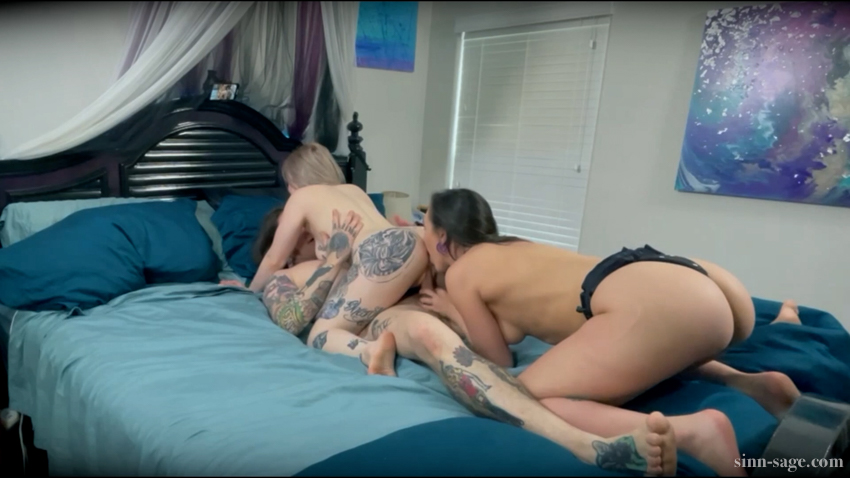 What's your favorite thing that's going down in this film?
Double Penetration: when I put on my dick and my husband's got his dick, we can play with the world of double penetration – and we DO in this movie! Whether it's your standard definition of one in the pussy and one in the ass, or the double vag, or the spit roast, we get to explore all the different variations but without that overwhelming male energy of two cis males being involved. Also, does a train count?? (I penetrate my partner while Drake penetrates me. . . yup that happens!)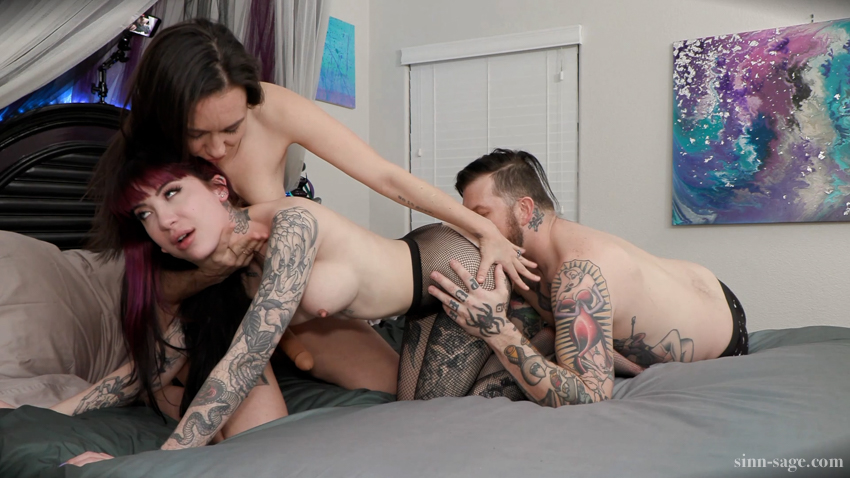 This is another film of yours that has you wearing a strap on a lot, what does it mean to you to get to wear one so often in your porn?
I get to have my strap-on in every single scene (at least for the first half!). I truly enjoy all types of scenes, that's why I'm out here sharing my sex life with y'all. But there is something really special for me when I put on my cock. I always get it strapped on and cinched up, then I get a little lube in my hand so I can stroke myself before we start. When I do that, I'm connecting the mental with the physical. I'm tuning into my psychic dick. I start to feel it in my clit, pulsating – it's like it mentally grows into my cock. Then when I'm using it, that comes through because for me it IS real, and viewers can see I'm loving it just as much as Drake is. As they say, the biggest sex organ is the MIND!