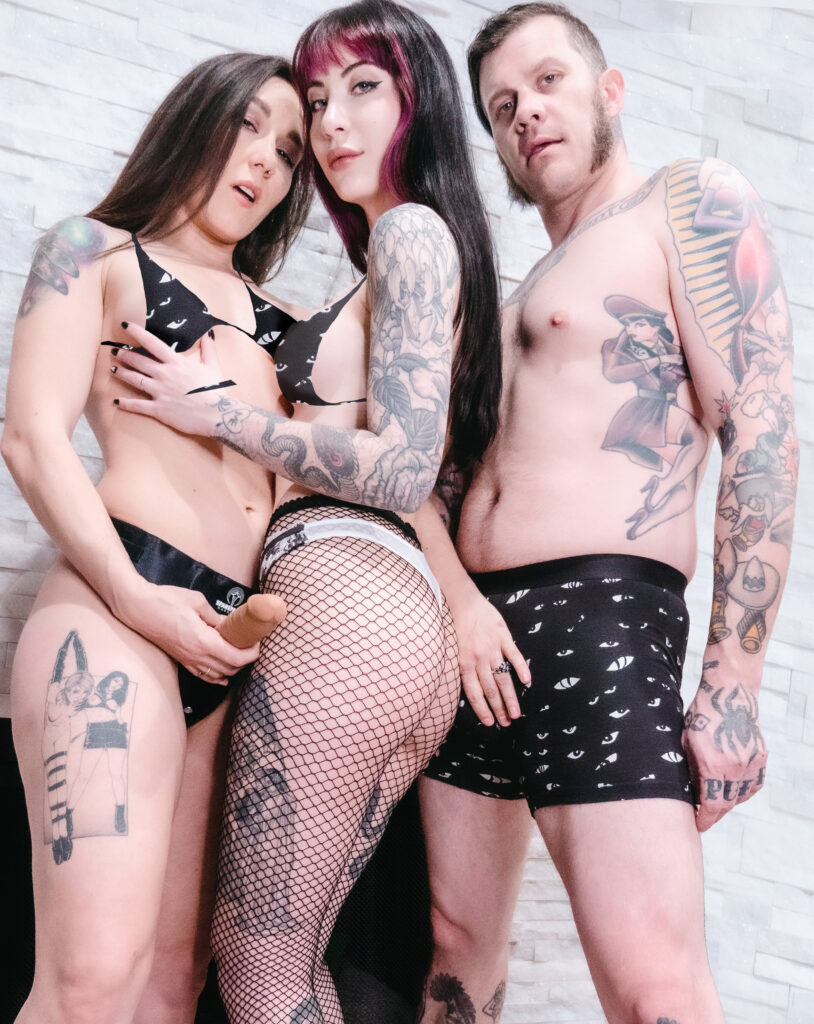 Sinn Sage proudly announces Sinn And Drake's Strap-On Threesomes. Presented by Sinn Sage Studios and TROUBLEfilms, the video features award-winning performer Sinn Sage alongside her husband Drake Man'O'War in sexy threeways with gorgeous girls Charlotte Sartre, Summer Hart, Kaiia Eve, and Lita Lecherous. Inviting beautiful women into the bedroom for fun and pleasure is thrilling, but adding a strap-on turns the sex session into an unforgettable adventure.
"With our love for women, it didn't take long into our relationship for Drake and I to discover that threesomes were our main kink," said Sinn. "The real revelation was when we introduced my strap-on into play during a group sex scenario in our personal life! Now, I could really experience the best of all my worlds, and the first scene where he penetrates me as I penetrate another babe is in this movie. Now my cock makes an appearance in our personal and professional threeways, and it's wild fun for everyone involved!"
"What I love so much about sharing a partner with my husband Drake is that rather than myself and the other girl focusing all of our attention onto him, Drake and I really lavish our partner with all the attention. She becomes the primary focus of our sexual desires, really subverting the standard trope of most threesomes being very male-centered. The goal here is to embrace a bisexual female gaze: something women, queer folks, and even couples can enjoy and get off to together."
"The great part about this movie is it's no different from our personal life, as both of us have the same lusting for women," Drake added. "The dynamic is very easy-going – we both share in the pleasure of the female, as opposed to what you tend to see in a lot of mainstream Male/Female/Female scenes. In every scene in this movie, you can imagine us picking up our third and bringing her home to play with us. This is how we really share partners in our bedroom. You really wanna know what it's like to bang us? Watch this movie!"
Noted Courtney Trouble of TROUBLEfilms, "There's double penetration, stacking, and daisy chains in this movie so inviting and sexy it will make you want to call up Sinn and Drake yourself to see if they've got any openings!!! This film leaves me fully satisfied but also wanting to see more porn for bisexual babes on the shelves! Bring on the G/G/B!"
Sinn And Drake's Strap-On Threesomes contains four scenes and runs over two hours. Adults can purchase and download the video at TROUBLEfilms and Sinn-Sage.Com exclusively – a wide release to VOD
Get ready for a strap-on playdate! There is always room for one more in Sinn And Drake's bedroom. Experience passion-filled performances in the hot new release Sinn And Drake's Strap-On Threesomes!