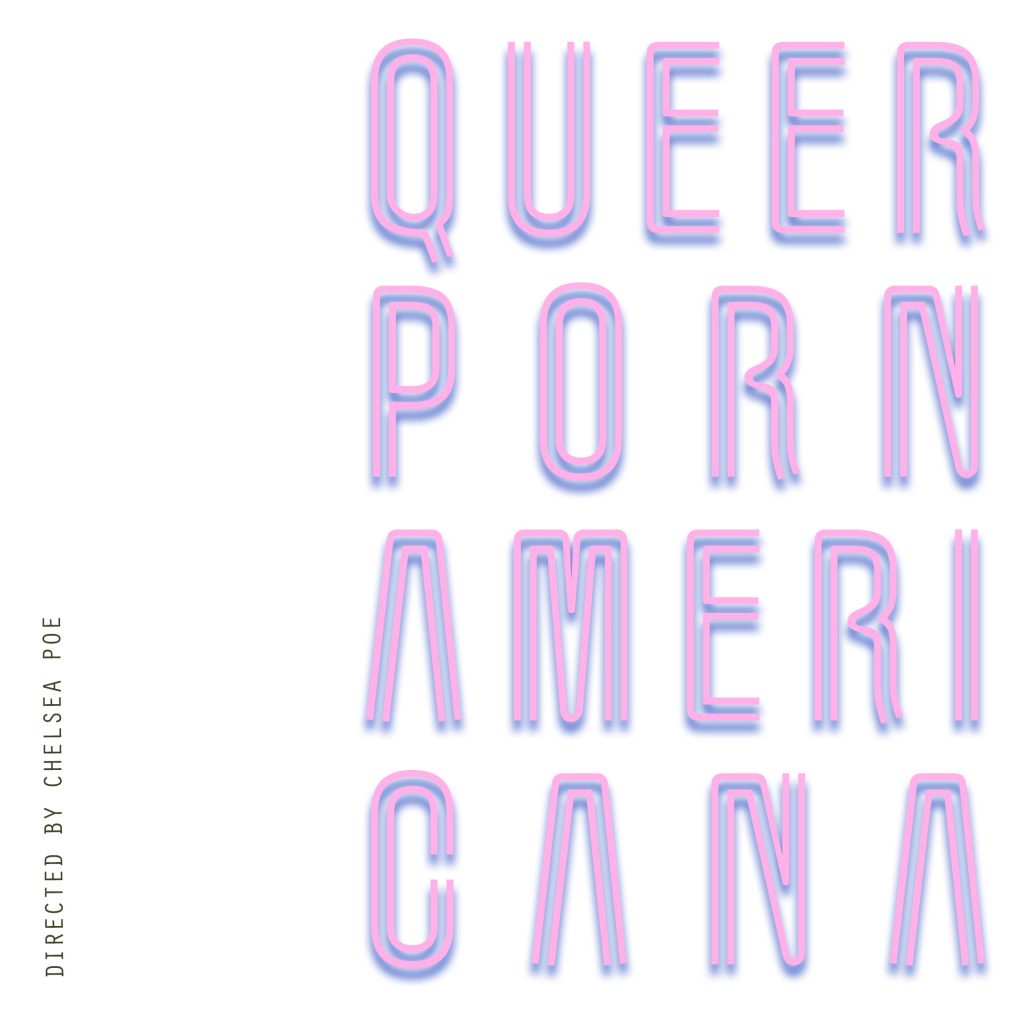 TROUBLEFilm's upcoming release QUEER PORN AMERICANA is trekking out on the genre's biggest screening tour with 5 screening dates over March & April in Brooklyn, Providence, London, Chicago and Tokyo.
Queer Porn Americana is AVN-nominated performer Chelsea Poe's directorial debut that blends the worlds of experimental film, queer music and queer porn. Starring Tiffany Starr, Crona Valentine, and a crop of fresh new queer porn faces like GodsGirl/clip star Ella Bryn, the film's co-producer. The film visits places like Chicago, Vegas, and Grand Rapids "to capture just a tiny slice of what queer sex is like all over the country," explains director Chelsea Poe. Queer Porn Americana's premiere is taking place in Brooklyn, where the fantastically hot stars Parker Reed and Milcah Halili shot their sweaty rough and tumble wrestling/fuckfest scene. The film was finished in the Bay Area and sports an all-queer soundtrack throughout the film.
"I am proud of Chelsea Poe and am reminded of my first film Roulette when I watch how Chelsea has put together her film," says Trouble. "Showcasing the diversity of desire through her dynamic casting, using an entirely queer artist crew, queer soundtrack, and traveling around the country in order to work with a variety of people… it shows a lot of promise. Poe is the director to follow." TROUBLEfilms has already signed on to release 2 more full length films from director Poe.
The film, released after the tour on April 20th, will be offered as a digital download as well as a limited edition handmade collectable DVD – a one of a kind object that Poe says "looks more like a record than a dvd," with soon-to-be MFA graduate Courtney Trouble's hand-printed artwork on the cover.
VOD syndication on Hot Movies For Her and AEBN begin May 1st.
For Press Inquiries please contact Chelsea Poe at info@troublefilms.com
Queer Porn Americana Tour Dates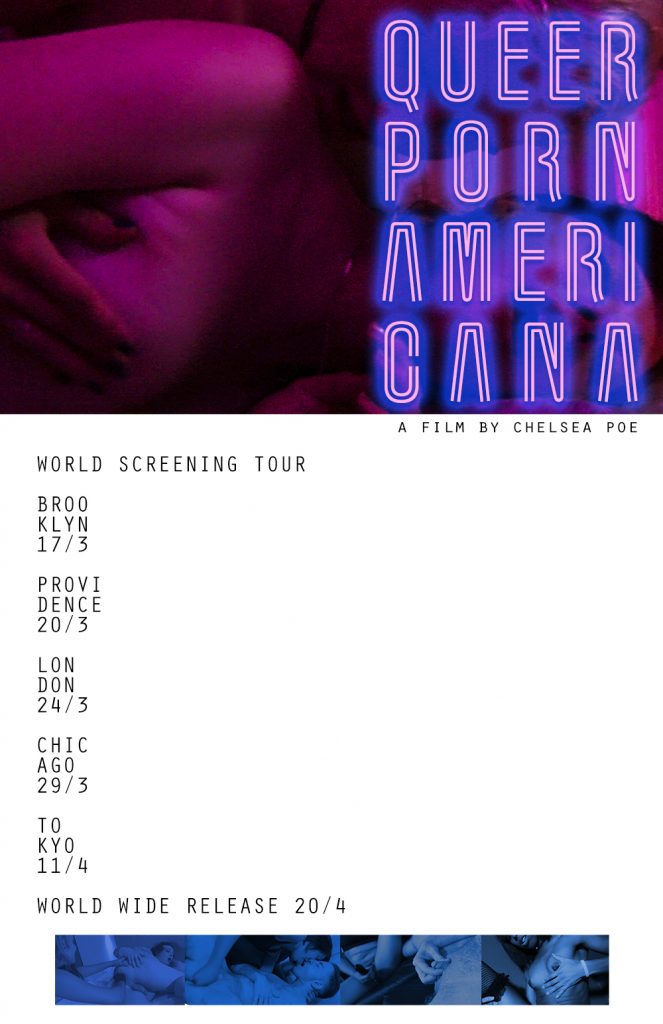 March 17th
BROOKLYN: https://www.facebook.com/events/700366493476041
Queer Porn Americana's World Premiere Hosted by The Spectrum
with Chelsea Poe, Ella Bryn, and Courtney Trouble in attendance.
March 20th
PROVIDENCE: https://www.facebook.com/events/173288136505988
Queer Porn Americana Screening with Chelsea Poe, Ella Bryn, and Courtney Trouble in attendance.
Plus, bands Strap-On Ritual and Baby; Baby
March 24th
LONDON: https://www.facebook.com/events/617124295139996
Queer Porn Crit II – Chelsea Poe Q&A at The Common House, Bethnal Green
Director Chelsea Poe in attendance. Please follow FB page for details.
March 29th
CHICAGO: https://www.facebook.com/events/434754623528164
Queer Porn Americana Screening at The Pleasure Chest Chicago
with Chelsea Poe and Ella Bryn in attendance.
April 4th
TOKYO
Queer Porn Americana and TROUBLEfilms Japanese debut
details will be announced shortly