[wpcol_1half id="" class="" style=""]
COURTNEY TROUBLE'S TRANS LESBIANS
VOD Release: 01/05/2015
DVD Release: 01/29/2015 through Pure Play Media Distribution
Directed by Courtney Trouble
Trans Lesbians is a beautifully shot, chemistry-driven hard core feature that follows Bailey Jay, Chelsea Poe, and Drew Deveaux through a lusty web of lesbian sex. The five scenes in Trans Lesbians are shot in Trouble's trademark artistic hardcore style that blends effortlessly the trans-postive porn ethos that TROUBLEfilms is famous for, with an edge of raw, hard core sex that the fans will love.
Bailey Jay, recipient of two AVN Trans Performer of the Year Awards, shines in this release, featuring two hand core scenes. In her queer porn debut, Bailey Jay gets perverted with Chelsea Poe's panties while enjoying an expertly delivered blowjob, then switches in pure girl/girl style and pounds Chelea's hole with a glass dildo!
Chelsea Poe, meanwhile, enjoying multiple 2015 awards season nominations, also stars in this film with real life fuck buddy and porn newbie Betti Rubble. The scene in punky, perky, and full of perversions, as Betti Rubble has fun teasing, torturing, and finally fucking Chelsea senseless with a strap on!
Bailey comes back to Courtney Trouble's sensual seductions, and in this iconic lesbionic scene, enjoy all the luscious soft skin, sexy kissing, finger play, oral sex, and orgasms. This is one of Bailey's only scenes where you will see her licking and fingering pussy!
Feminist Porn award Heart Throb and trans activist Drew Deveaux makes her huge hardcore porno comeback, starring in two career-making scenes with Courtney Trouble and Andre Shakti. With Courtney, the two lovers can't tell up from down or top from bottom, as they trade power back and forth faster than you can perceive. There's so much fucking in this scene, you forget that these babes are bonafide porn stars, and not just mad with lust!
In another lover's scene, Drew takes on the Dyke March (in a cute Trans Grrrls throwback!) with real life sweetie Andre Shakti. Flirting in the grass, foreplay in the trees, and full on lesbian fucking in a tent? It will convince anyone ever that pride parades are where it's at when it comes to the best lesbian cruising!
"I wanted to focus on three women who have really put forth so much effort to make the industry a great place to work, and really embody that TROUBLEfilms creative spirit. Bailey, Chelsea, and Drew stand above the rest in my mind as muses and incredible individuals. They are three of the most important trans performers of our generation."
Trans Lesbians is a follow up film to 2013's critic's darling and award-winning title Trans Grrrls: Revolution Porn Style Now!
[/wpcol_1half] [wpcol_1half_end id="" class="" style=""]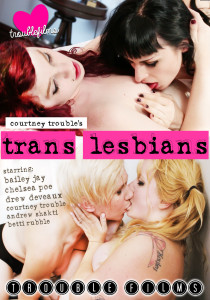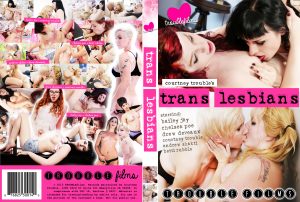 Release: January 2015
Directed By: Courtney Trouble
Produced By: TROUBLEfilms
Starring: Bailey Jay, Chelsea Poe, Drew Deveaux, Courtney Trouble, Andre Shakti, and Betti Rubble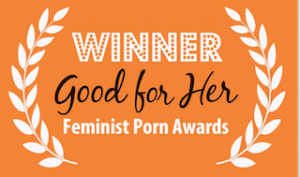 [/wpcol_1half_end]