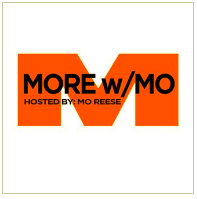 Episode 247 of More With Mo features a lively discussion between two adult veterans from vastly differing vantage points within the industry: Mo Reese aka "The Average Mo" and TROUBLEfilms owner/plus size porn star Courtney Trouble.
The episode is 57 minutes long and charges through an explanation of their friendship. They were introduced via one of Mo's partners Karla Lane, an often-time TROUBLEfilms collaborator and fan favorite. Since this friendship did get started because of the BBW porn community, some time is spent discussing the term "BBW" vs. the term "plus size," before moving on to more interesting stories about Mo being present for the LA Lakers Lizzo Moment, and Courtney having just done a scene with mega-star Angela White.
The two have also performed together (in the "bisexual unicorn" fantasy COCKFETISH with Karla Lane) so there's a further discussion about what it was like for them to do the shoot – it's worth a second and third listen in our opinion!
Listen to the episode on your favorite cast app!
P.S. Aren't we cute?