In true best friend form, Fat Girl Fantasies project founders April Flores and Courtney Trouble released "matching films" today, and both of them are outstanding firsts for the artists and in the genre of plus size/BBW/fat girl porn.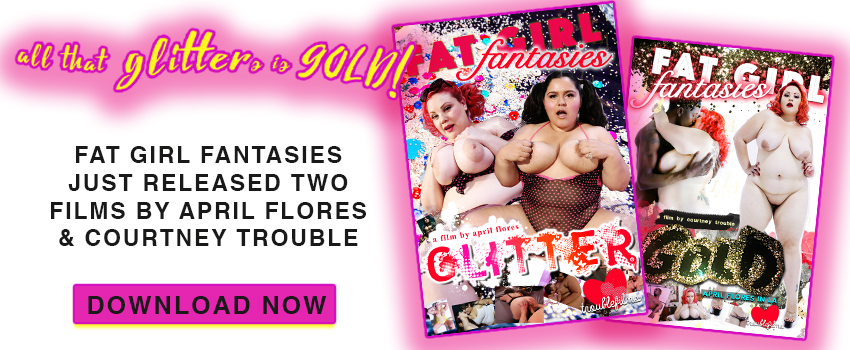 "All that GLITTERs is GOLD," they say – and we as fat girls, we know exactly what that means. Our bodies are attractive, sexual, desirous, in your aroused mind's eye we appear as glittery apparitions. April Flores, behind the camera, captures the glitter of queer sex with the same perverted mind's eye that brings us all to the luscious genre of plus size/fat/bbw porn..
"It was fun being behind the camera for a change! Perving out while holding the camera and focusing on the elements that turned me on was a thrill. I wanted this film to reflect everything I find sexy. Diversity is sexy, and this film is diverse in every way. It was important for Glitter to be inclusive. My work representing a fat body that is also sexual has been the driving force behind my career since I began in 2005. I'm excited to share my vision with my fans and have them grow with me! It's important for for Fat Girls to continue to express their sexuality, and Glitter is me expressing mine."
GLITTER is the DIRECTORIAL DEBUT for industry icon April Flores.
GOLD marks a whole new style of film-making for Courtney Trouble, who has been on hiatus for 2 years aside from working With April on this project. "I don't do anything I don't want to do anymore. But watching my gorgeous best friend get the kind of sex she desperately wants to have, with exciting locations and tons of room to play with camera angles and creative shots – this project not only fits in with my graduate school work, in many ways it defines it. GOLD is a portrait, a shallow and playful one, but a portait no less of a sexully confidant woman getting what she wants. What takes this out of the shallow realm is that April is an incredibly deep, complex, emotional person who brings all of her feelings, passions, and heart to set. You can feel her living"
What's special about GOLD is that, like many Courtney Trouble films, explores a few fantasies of one star – April Flores. What's new for Trouble with this release is that it's their first Girl/Boy film since DIY zine release Come Find Me. GOLD follows up the duo, giving you a performer with 2 BBW Performer of the Year trophies, doing work that could earn her 100 more.
While seeking unique physical distribution options, GLITTER&GOLD will first be availible through FatGirlFantasies.Com and TROUBLEfilms.Com and reputable VOD theaters AEBN and Hot Movies For Her.