VIP Lounge Members: Watch This Scene Now!
Not a Member Yet? Join Us!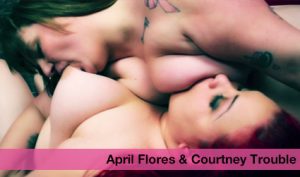 Two of porn's most luscious babes are finally matched in an epic titty fucking, sloppy strap on, squishy squirty sex scene that will go down in the queer porn history books. Superstars April Flores and Courtney Trouble invent all-new sex acts, as well as perfect their favorites in this incredible lesbian sex scene. Courtney's stone femme topping skills are on par with any butch in the phone book as far as we're concerned!