Just wanted to let all of you lovely people know about some upcoming travel plans! My official "appearances" page hasn't been built yet, so for now, this blog post will have to do!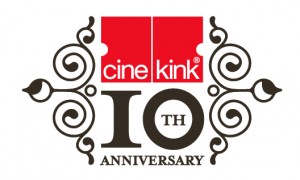 I will be in NYC at the end of this month for CINEKINK! Last year, I won two awards at the CineKink Film Festival (for my full-length film Live Sex Show and my mini documentary What Makes Us Queer) – and this year, I'm coming as the reigning champion to debut my new film Lesbian Curves on Sunday March 3rd at their closing party AfterGlow, and compete in the Bring It! competition again with a new piece, Billy Castro and Jiz Lee Fisting In The Shower from IndiePornRevolution.Com!
While I am there, I am thrilled to announce that I'll be on Tristan Taormino's fantastic Feminist Porn Show panel alongside dreamy feminist porn icons Candida Royalle and Jiz Lee!
THE FEMINIST PORN SHOW (Saturday, 3/2, 1 pm)    Facebook / FetLife / CineKink:
BRING IT! Industry Showcase/Clip Program (Saturday, 3/2, 4:30 pm)   Facebook / FetLife / CineKink
CINEKINK AFTERGLOW PARTY (Sunday, 3/3, 9 pm)   Facebook / Cinekink
CINEKINK NYC – Overall Festival / Tickets
There may be a few other places to find me in NYC, I will keep you updated as plans unfold!
——-
Next in line, I'll be flying straight to Vancouver BC for a very, very special event: The Porn For Everybody Launch Party as a celebrity guest DJ! I can't wait to celebrate Charlie Spat's new sex-positive and FREE queer porn site!
Then, come April, I'll be back in Canada for my favorite event of the year, the Feminist Porn Awards, and for the very first ever Feminist Porn Conference (thanks again to Tristan Taormino for putting that together!) – at the conference I will be running a workshop with April Flores and Tobi-Hill Meyer on Fighting Oppression with Feminist Porn. We will be talking about the importance of size-positivity, racial diversity, and authentic representation of all performers when making porn from a feminist perspective. I will post a link to that event's information as soon as I know the details!
Well, world… I do hope I see you while I'm out there exploring you! If you're a fan, please don't hesitate to come up and introduce yourself if you make it to one of these events – I love knowing that there's people out there who read this blog and follow my work!
xoxo Courtney Trouble