Submissive Mixtape Trailer / G.L.O.S.S. "Masculine Artifice" from Courtney Trouble on Vimeo.
[wpcol_1half id="" class="" style=""]
THE SUBMISSIVE MIXTAPE
VOD Release: July 2014
DVD Release: 9/20/2015 through Pure Play Media Distribution
Various Directors, all scenes star Chelsea Poe
"'The Submissive Mixtape' is a really important film to me largely because creating it was based around the lack of inclusion of trans women within BDSM porn," said Poe about the upcoming release. "I've never seen a film that shows trans bodies doing the acts that are portrayed within 'The Submissive Mixtape' elsewhere in trans porn. I really hope this film can open doors for other trans performers to showcase BDSM. I'd like to encourage the BDSM porn industry in re-evaluating trans women's roles on their sites to be more inclusive."
Chelsea Poe shines in every scene on "The Submissive Mixtape". Nikki Darling dominates her in a protocol-heavy, dungeon-based BDSM fantasy directed by Ajapornfilms. Courtney Trouble is behind the camera for a scene where Jade Phillips acts as a sadistic dominant in the kitchen, having Poe give a particularly intense blowjob. Lesbian couple Gapereilla Holl and Alyx Fox seduce Poe and then offer her up as a plaything to a random neighbor in a piece by Foxhouse Films. Courtney Trouble and Poe bring the film to an explosive close in a loving and perverted scene by Heartless Productions that includes Trouble's first facial.
[/wpcol_1half] [wpcol_1half_end id="" class="" style=""]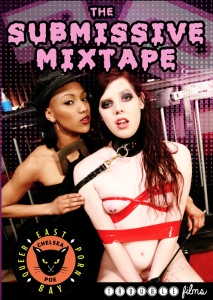 Release: July 2015
Directed By: Courtney Trouble, Jacqueline Mary, Foxhouse, Ajapop
Produced By: TROUBLEfilms & Chelsea Poe
Starring: Chelsea Poe, Courtney Trouble, Nikki Darling, Jade Phillips, Alyx Foxhouse, Gapriella Holl
[/wpcol_1half_end]