[wpcol_1half id="" class="" style=""]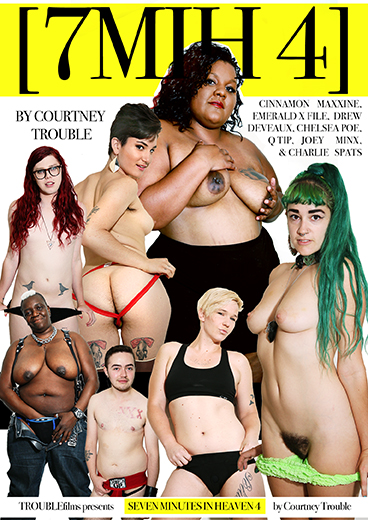 SEVEN MINUTES IN HEAVEN 4

Concluding the series, 7MIH4 takes the concept into my own home for the first time. Split between the porn studio and my bedroom, seven minutes in heaven is a completely unscripted project starring seven hot queers meeting up for a day of self-conceptualized porn sex, with no pre-determined outcome. the gaze of the camera is intimate, but never all-knowing. this film relies on the fluidity and chemistry of it's incredible cast, and our ability as camera people to support them.
The party starts off with a game of spin the bottle that seduces everyone into a legitimate make out pile. Chelsea and Emerald wrestle and squirt, Q Tip leads a blowjob circle jerk with Drew in the middle. Cinnamon and Chelsea team up to fuck the bratty attitude out of a squirmy submissive Emerald at their mercy. Charlie lets Chelsea spank him until he bleeds. Drew "teaches" Joey how to suck strap-on cock before fisting them until they squirt, and then later makes Q Tip fill the entire house with orgasmic screams. The film has countless variations of the implacable cast.
Pieced together narrative with intimate photobooth video diaries by the stars and tied together with the inquisitive photographer TC capturing essential behind-the-scenes footage.
Cast: Cinnamon Maxxine, Drew Devaux, Chelsea Poe, Q Tip, Joey Minx, Emerald X File, and Charlie Spats.
Camera Crew: Courtney Trouble, Ajapornfilms, and TC
Edited by Cinnamon Maxxine and Ajapornfilms
[/wpcol_1half]
[wpcol_1half_end id="" class="" style=""]
[/wpcol_1half_end]