VIP Members: Watch This Scene Now!
Not a Member Yet? Click Here to Join (or learn more!)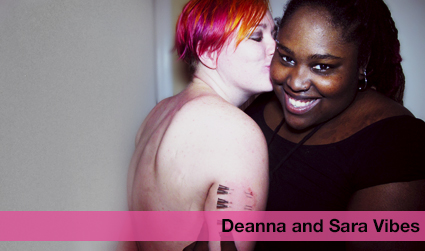 In this highly anticipated QPTV NYC scene directed by Tina Horn, Sara Vibes brings Deanna Cannonball to the edge in an intense and beautiful play piercing scene. This video is edited into three vignettes: First, Sara puts her knife all over Deanna's body and punches and flogs her to warm her up. Then, the middle of the scene focuses on the piercings, as Sara punctures Deanna's skin up and down her entire arms to create a beautiful bind. Deanna experiences the edge of consent, and begs Sara to take them out and fuck her. The third portion of the scene has Sara fucking Deanna with her hands and a giant strap on – the orgasms Deanna shudders through seem to be laced with the pain and pleasure of being edged and bled by one of the absolute best in the BDSM community, Sara Vibes.