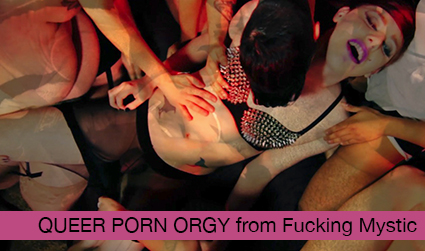 Chelsea Poe
's sexual magic has come to a climax, and a hedonistic one at that! As she enters the room, a swarm of gorgeous queers devour her, over come her, and come over her over and over again. With a cast of 17 incredible queer porn performers (listed blow), this orgy is the culmination of a community of stunning, creative, brilliant, beautiful queers come together for a wet and emotional art project.
VIP Members: Watch This Now! \ Not a member yet? Get Instant Access!
Starring:
chelsea poe, andre shakti, ramses rodstein, james darling, kitty stryker, jeze belle, april flores, betty blac, jiz lee, carnagie velvet, juba, cinnamon maxxine, b. nefarious, vivian dawn, cyn, ivy dykes, and indigo bleu.
directed by courtney trouble.
shot by courtney, cocopop, and nyc


Want access to more? Get twice as much queer porn when you use your login at QueerPorn.TV over at IndiePornRevolution.Com, when you're a Courtney Trouble Fan Club Member!