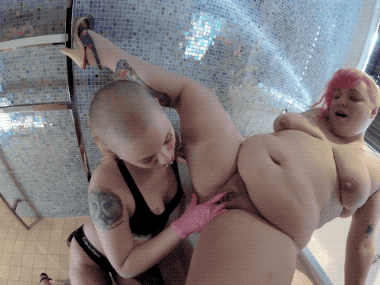 Shot by Rae Threat, this surveillance vid of Jane Way and Courtney Trouble captures two punk sex workers role playing a hotel heist hook up, fucking hard in a luxury client's spa.
this is true trans punk fun that happens to be shot on a GoPro in a super fancy hotel that was paid for by a client – we felt the needs to profess our punk rock love in this setting especially to highlight our incredible and fascinating adventures as queer, nonbinary sex workers.
courtney trouble wearing badass rockabilly heels looking like a late 90s riot grrrl snack in high waisted cat print panties.
jane way in a sexy black pussy riot balaclava, not so much sneaking but pouncing on trouble who has no interest in protesting this peaceful punk's sexual advances.