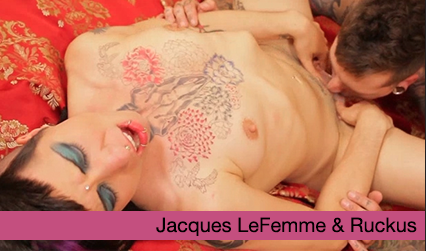 Running late for the goth club, Ruckus begs his roommate Jacques to help him get ready. But after spending that much time so close to Ruckus' hypnotizing face, Jacques melts and goes in for a kiss! Ruckus returns his forward move, and these two end up smearing their lipstick all over each other's cocks and faces – this femme fuck boy/boy trans-inclusive scene is like nothing in the porn rule books, and we LOVE it!

Shot by Courtney Trouble and Kitty Stryker
VIP Members: Watch This Now!   \   Not a member yet? Get Instant Access!

Want access to more? get twice as much queer porn when you use your login at QueerPorn.TV over at IndiePornRevolution.Com, when you're a Courtney Trouble Fan Club Member!