---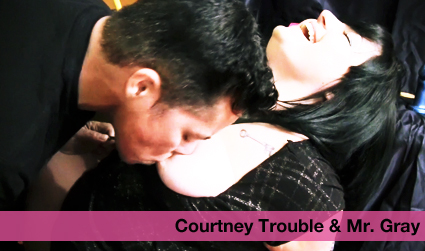 Courtney Trouble tries her hand at retail, working for leather king Mr Gray at Aslan Leather. Mr. Gray is an unforgiving boss and soon Courtney finds herself in the middle of a new kind of training day.
Mr. Gray demonstrates the use of a leather arm binder, leather wrist cuffs, and rope bondage on his trainee, taking full advantage of her in these compromising positions. Courtney is forced to her knees to suck Mr Gray's big cock, then gets hand fucked until she squirts all over the floor. Mr Gray also deals out plenty of tit torture, ass punching, and rough handling, getting off in his leather pants over and over.
This scene is heavy on BDSM, bondage, impact play, humiliation, and verbal domination. Stay tuned for Part Two, in which Courtney is fucked until she squirts all over the leather sling.

Run Time: 19.33

---