---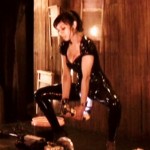 We love Cum and Glitter, the Live cabaret style Sex  Show  located right in beautiful San Francisco. At the last show, celebrating the Folsom Street Fair, Beretta James had a serious conundrum.  She needed to get off and she needed the tools for it fast. She improvised so well, that soon she had an entire machine fucking her. Watch as she shows off her incredibly resourceful skills and how she really has a way with parts, too.
Indie Porn Revolution is super proud to be a promotional sponsor for Cum and Glitter. We have a bunch more videos, too. Click the Cum and glitter banner bellow for our Cum and Glitter tab!
Member's Only: Watch it Now!
Click on the icon in the corner to watch this full screen!
If this video isn't working, you should try logging in first, then come back and press play! Only subscribed members should be able to play this video – if you're not a member, join now and get instant access to this scene, and everything else on the site!
Not a Member? Join Indie Porn Revolution for 9.99 and get instant access to this scene!