---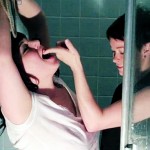 Trouble's a dirty, dirty puppy. Jiz Lee has no choice but to throw them in the bath and wash her from the inside out! Combining two of our favorite queer kins, puppy play and water impact, this scene ends in a wet, slippery climax, with Trouble panting for more from her dominant genderqueer dog-sitter!
Member's Only: Watch it Now!
Click on the icon in the corner to watch this full screen!
If this video isn't working, you should try logging in first, then come back and press play! Only subscribed members should be able to play this video – if you're not a member, join now and get instant access to this scene, and everything else on the site!
Not a Member? Join Indie Porn Revolution for 9.99 and get instant access to this scene!