---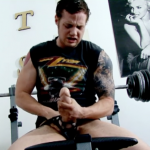 You know how you all are obsessing about Billy Castro all the time? Billy is definitely one of our most popular foxes, by far. Well, get this.. This scene is the first solo scene he ever did. That's right. Billy is here all by himself, lifting weights, and then jerking himself off till he's all sorts of hot and sweaty. Best way we've seen a workout ended, yet.
Member's Only: Watch it Now!
Click on the icon in the corner to watch this full screen!
If this video isn't working, you should try logging in first, then come back and press play! Only subscribed members should be able to play this video – if you're not a member, join now and get instant access to this scene, and everything else on the site!
Not a Member? Join Indie Porn Revolution for 9.99 and get instant access to this scene!