How To Watch TRAINING OF POE this week!
You can watch live on October 30th on Courtney's AVN Stars Live Stream at 3pm PST, with a congruent live chat before the much-anticipated Zoom Panel with Chelsea Poe, Bella Vendetta, and Courtney Trouble.
You can purchase Training of Poe to own digitally from our store, making it easy to watch the film at your own pace before, after, or during the event!
Paying members of TROUBLEfilms.Com or NoFauxxx.Com/Indie Porn Revolution can now watch the entirety of Training of Poe streaming online this week only when logged in, making it easy for our members to watch anytime this week at their own pace! Enjoy!
How To Join the TRAINING OF POE Live Panel!
Sign up here and reserve your spot in our Zoom party
Subscribe to our newsletter!
When: Oct. 30th 2020, film starts at 3pm PST, 6pm EST.
Where: Courtney's AVN Stars Live Stream
The live stream of Training of Poe (with chat room!) will happen on Courtney Trouble's AVN Stars Account Courtney Trouble TV
3pm Film and Chat Room start (times in PST)
5pm Live Panel with Bella and Chelsea starts.
To keep you home and cozy this Halloween season, Courtney Trouble hosts Chelsea Poe and Bella Vendetta on AVN Stars for an explicit discussion about BDSM and filmmaking, after a rousing virtual screening of their award-winning film Training of Poe brings the audience together in chat! Bring your favorite lube, some popcorn, and a good question for the filmmakers.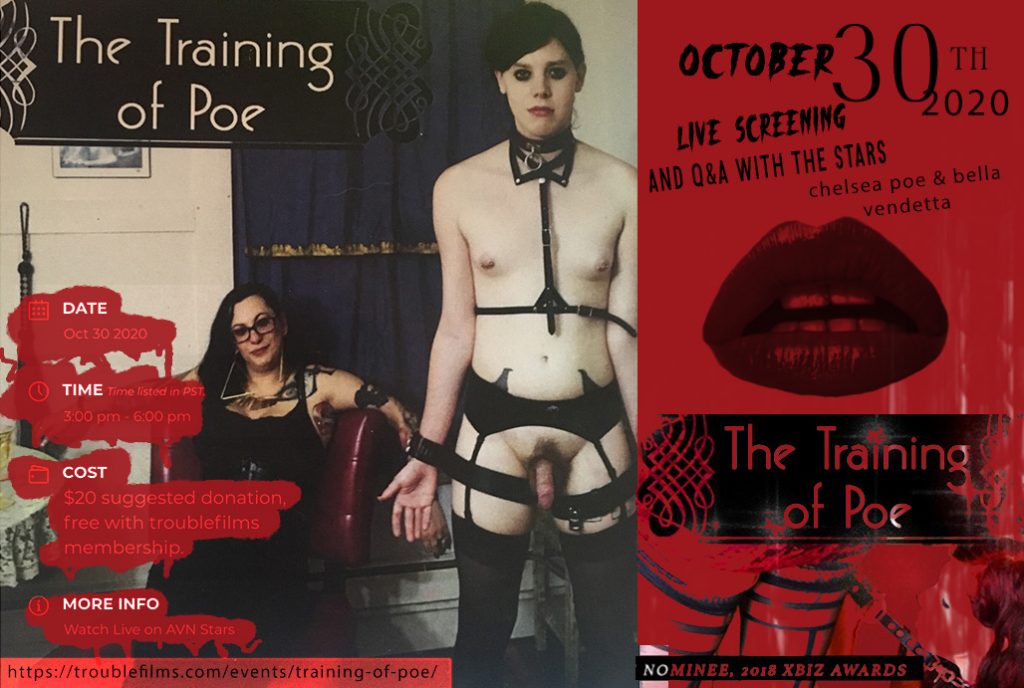 When: Oct. 30th 2020, film starts at 3pm PST, 6pm EST.
Where: Courtney's AVN Stars Live Stream
The event is free, with a suggested donation of $20 that will go directly towards Chelsea Poe and Bella Vendetta.
You can donate in advance by Buying A Ticket, Becoming a TROUBLEfilms member, or subscribing to Courtney's AVN Stars premium feed. (Just one of these will suffice as a noted donation!)
You can also buy to own Training of Poe as a download or DVD in our store's collection of Beautiful Revenge films.
Training of Poe was released in 2017 by Beautiful Revenge, Bella Vendetta's production studio, and distributed by TROUBLEfilms. It follows Chelsea's journey as she learns to serve and please Mistress Bella in a gorgeous long form documentary style, through the various training rooms in Bella's dungeon to all the way to the river, where Bella whips Chelsea over a wet rock.
This film deserves all the accolades it has received, and we are happy to be screening it for 24 hour straight starting October 29th into October 30th before the live screening and discussion with Bella and Chelsea, hosted by Courtney Trouble. Join TROUBLEfilms.Com as a member to gain access, giving you free access to the live event starting at 6pm EST.