Another fantastic BDSM film from the queen, Julie Simone.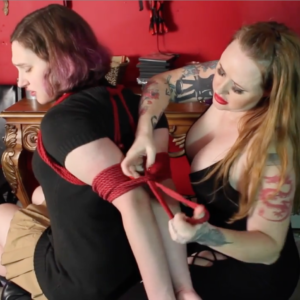 Today we are happy to announce that Julie Simone's brand new film Bound Trans Submissives is for sale at RealQueerPorn.Com, the online retail outlet for TROUBLEfilms. Alongside critically recognised trans BDSM features Fetish Fvckdolls and Training of Poe, Bound Trans Submissives features an honest look at trans women involved in the BDSM community.
Bound Trans Submissives stars up-and-cummers Tai Crimson (who also appears in Julie Simone's mouth-soaping series) and River Enza, who will also be starring in TROUBLEfilms January 2018 release Fuckstyles 3: Threesomes with her real-life domme Goddess Kyaa. Goddess Kyaa co-tops River alongside AVN Hall of Fame dominatrix Julie Simone in a 2-on-1 rope bondage scene that is bound to please.
Also a crowd-pleaser, in one scene Julie invites *two* other dommes to gang up on a lingerie-clad bound lady and use her as their playtoy.
There's a lot to enjoy about Bound Trans Submissives by Julie Simone, download your copy today from RealQueerPorn.Com