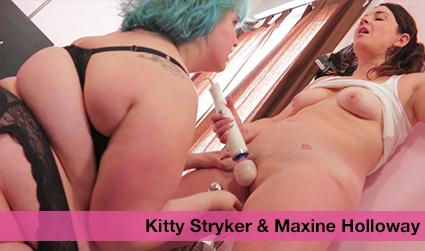 Kitty and Maxine play live-in girlfriends in this cute domestic role play, but they're running out of closet space! Kitty suggests they start sharing clothes, but Maxine refuses to give up her tomboi style in lue of Kitty's floral femmey wardrobe. Kitty wont let up, so Maxine turns the whole thing into a great reason to fuck. As you do!   Want more scenes like this? Check out Lesbian Curves 3: Soft Girls + Strap Ons, where this scene comes from!
VIP Members: Watch This Now!   \   Not a member yet? Get Instant Access!

Want access to more? get twice as much queer porn when you use your login at QueerPorn.TV over at IndiePornRevolution.Com, when you're a Courtney Trouble Fan Club Member!