Fuckstyles of the Queer and Famous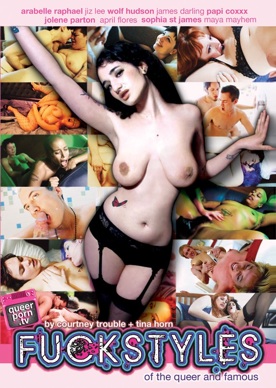 THIS IS HOW YR FAVORITE QUEER PORN STARS LOVE TO FUCK!
We gathered our favorite queer porn stars together (including Jiz Lee, James Darling, Wolf Hudson, April Flores, and Arabelle Raphael)  to make a hard core porno mix tape just for you! We gave these babe complete freedom to be their nasty selves, and they gave us rough sex, double penetration, anal sex, pussy eating, blow jobs, strap ons, finger banging, squirting, POV, masturbation, doggy style, romance.. and loads and loads of real orgasms!! This is the kind of sex queer porn celebrities love to have – and you get to watch! This DVD has it all: cool queer babes, gushing wet orgasms, and great chemistry!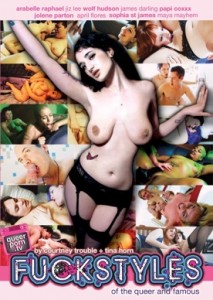 Released: February 14th, 2012
Directed By: Courtney trouble and Tina Horn
Produced By: QueerPorn.TV and TROUBLEfilms
Starring: Arabelle Raphael, Jiz Lee, Papi Coxxx, Wolf HUdson, James Darling, April Flores, and more
BUY DVD or VOD:CourtneyTrouble.Com and QueerPorn.TV