FOR IMMEDIATE RELEASE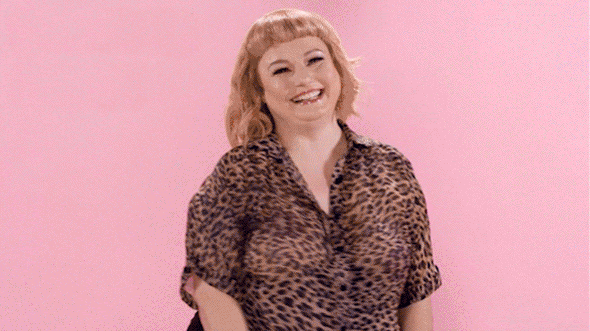 VIRTUAL – It's a Date! Angela White And Courtney Trouble's now-iconic collaboration LOVE LUST RESPECT will be the headlining feature for the latest installment of the Queer Porn Film Festival 2.0, "Body Positivity in Porn," sponsored by Adult Time and benefiting the Free Speech Coalition's Performer Emergency Fund on May 30, 2020, hosted by Courtney Trouble.
This is the first time that LOVE LUST RESPECT has been officially screened before a live audience, and the first time Trouble has seen it themselves.
Of the film, director Bree Mills states, "It was an honor to collaborate with Courtney and Angela on this project, which was truly their vision brought to life. Courtney is such an important icon in the history of queer cinema that the pleasure was all mine! I'm happy to see this work or art continued to be viewed and recognized for the important work it is!"
Furthermore, April Flores and Karla Lane will join Courtney LIVE for an engaging discussion on body positivity and porn performance!
How to attend: Follow Courtney Trouble on AVN Stars (https://stars.avn.com/courtney/?code=75a01) and click on the LIVE icon on May 30th at 11am, showtime! Dont forget to donate to the FSC Emergency Fund: https://www.freespeechcoalition.com/donations/emergency-fund/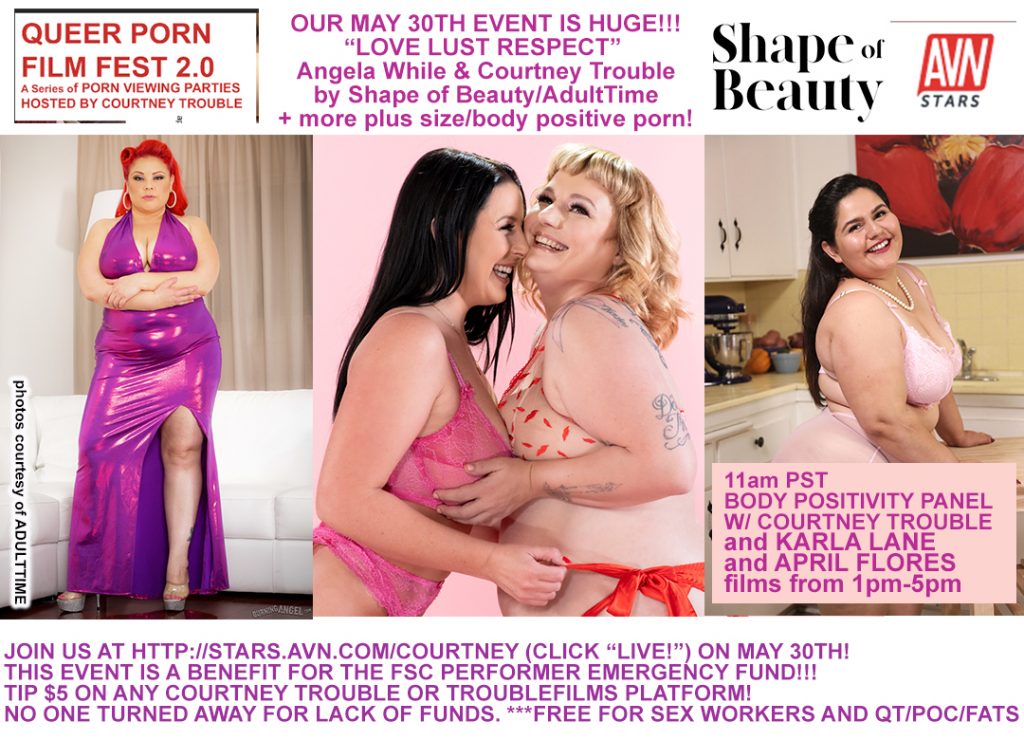 AVN Stars is a social media site run by and for the Adult Industry, a platform for fans to connect with and enjoy content by their favorite Adult Performers. That's why it's such an honor to announce that the Queer Porn Film Fest 2.0 has found t's virtual home in such a visible, respected venue. "Tony Rios and the people behind the AVN Stars project have been supportive and even empathetic throughout this entire process of "going virtual" with a DIY, queer, fat, trans-run, mostly "punk" event," says Courtney Trouble. "I wouldn't be able to host an online film festival with such freedom and innovation anywhere else. I love their OBS technology. It's like Twitch for Grown Ups! At least, my channel is."
"Body Positive" has become a popular key word of late, and many people are turning to porn to look for answers. But what to look for, BBW? Plus Size? "All Natural?" And How do you Watch Porn, ethically, and loving your body and the bodies of others? These questions and more heart-throbby things, like soft tiddies and silky panties n things, will be the themes and topics of this event, part of an ongoing series of porn and chat that Trouble intends to continue well into 2021, "if these good themes and urgent conversations continue to emerge."
Beginning the program will be a live streaming panel discussion on the festival topic with AVN Award Winners Karla Lane and April Flores in conversation with Courtney Trouble, followed by streamed presentations of LOVE LUST RESPECT (Shape of Beauty/Adult Time), April Flores and Karla Lane's one (& only) girl/girl scene in Fat Girl Fantasies (TROUBLEfilms), Bordello (Reel Queer Productions/Courtney Trouble), along with an excerpt from BBW Sex Party (Body Positive Productions by Karla Lane), just some of my very recent favorite plus size porn releases.
Program.
11am: "Body Positivity in Porn" – Panel with Karla Lane and April Flores in conversation with Courtney Trouble.
1pm-5pm: Online Film Screenings
Courtney Trouble and Angela White in LOVE LUST RESPECT (Shape of Beauty/Adult Time)
April Flores and Karla Lane in Fat Girl Fantasies (TROUBLEfilms)
Bordello (Reel Queer Productions/Courtney Trouble)
Excerpt from BBW Sex Party (Body Positive Productions by Karla Lane)
Requested donation is $5, with all proceeds benefiting the Free Speech Coaltion's Performer Emergency Fund.
"I am personally feeling so honored that we can show LOVE LUST RESPECT to a larger audience, particularly my die hard fans who are also plus size queer femmes. This screening means a great deal to them, and with extra proceeds going to the FSC Performer Emergency Fund, I'm excited for the community we will all build around body positivity and porn!"

Courtney Trouble
QPFF is an open-source queer porn film festival conceived by Courtney Trouble. The first fest took place in Brooklyn in 2015 and is structured loosely enough that any collective is able to easily pick up the ideas and the name of the festival.
This event is sponsored by Shape of Beauty – the groundbreaking, premium plus size adult series for Adult Time. Says Trouble of the AT sublabel, "Shape of Beauty is the first project to come around in my entire CAREER that I could point to and say, "THIS – and nothing less." It's not even that the performers are taking on classy roles, this whole project could be disgustingly hardcore trashy and still be the best because there's cinematic brilliance and industry knowledge behind it."
courtney trouble is a queer femme porn star and production company executive with an MFA in Photography and multiple awards from XBiz and the Feminist Porn Awards for thier work in adult film. They currently run TROUBLEfilms.Com from home in the East Bay and host the Queer Porn Film Fest 2.0 Virtual Porn Viewing Parties on AVN Stars, connecting fans to the performers they love over conversations they'll never forget.
April Flores has won the AVN BBW Performer of the Year trophy twice in a row, having inspired the award category with over a decade of iconic, obsessivly stylish modeling and hardcore porn work with artists like Carlos Batts, Brazzers and Aiden Starr/Evil Angel. She's also an indie darling, appearing on Reel Queer Productions DVD covers and TROUBLEfilms series lines since 2010. Her writing and modeling can be found in many books, most notably her own project with Batts entitled FAT GIRL.
https://onlyfans.com/theaprilflores
Karla Lane is multi AVN award winning, newly minted (2020) AVN Hall of Fame and XRCO BBW performer of the year. She's a veteran of the industry, having excelled across many niches and genres for over 13 years and gaining nominations for her acting in mainstream productions like "The Weight of Infidelity," her debut with AdultTime/Pure Taboo.
Remember: To participate, please join Courtney Trouble's live stream on stars.avn.com/courtney on May 30th at 11am PST